This first Surround 5.1 release for the Norwegian label Aurora contains three works by Natasha Barrett composed especially for an immerse environment. The composer has developed stereo versions of the pieces as well, which are found on the included regular CD.
The pieces on Kraftfelt (Force Field) take place in the space between the abstract moving and the concrete descriptive. In … fetters… the laws of physics control the dramatical and auditive content. Prince Prospero's Party is a musical parallel to Edgar Allan Poe's The Mask of the Red Death. Exploratio Invisibilis is a journey of the mind, inspired by the great adventurers and explorers.
Barrett uses organic samples as a basis, and moulds her musical material from that. Her works unfolds in the twilight-zone between the world as we hear it around us and our inner experiences. She presents both an external narrative and a psychological process for the listener to take part in.
ACD 5037 / 2005
UPC/EAN 7044581350379
Total duration

:

58:03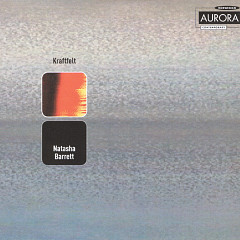 Kraftfelt
DVD-Audio + CD Surround

2.0

ACD 5037

US+3.00+4.00

Temporarily out of stock
Blog
Natasha Barrett just released a new album, Kraftfelt, on the Norwegian label Aurora. This new album presents three compositions in two listening formats: 5.1 Surround versions on DVD-Audio, and stereophonic versions on CD!…