Eres+21, following Eres + 16 and Eres + 7, continues a compositional approach involving a tape recorder modified into a device for recording, structuring and mixing sound: in this case, noises, voice and invented instruments. Sculptures and accumulations made of sound, recorded on tape loops, these new pieces are rooted in audio art and sound poetry. This results in a unique brand of music where the repetitions engage your mind into travel and the variations bring you back. The circuit is renewed at every turn and is heaped onto a continuum, a mass, a stratification of sounds which is erected step by step and develops quasi melodies or which sidesteps itself straight into the path of chaos. Pierre-André Arcand (1942-) lives in Québec. An artist and sound poet, his performance practice owes as much to audio art and experimental musics as to direct poetry or action poetry. He has performed in various countries and published in Inter, Doc(k)s, Baobab, Rampike, Estuaire as well as two CDs on the Obz label.
AVTR 007 / 1997
UPC/EAN 771028210725
Total duration

:

66:54
48 pages
Not in catalogue
This item is not available through our web site. We have catalogued it for information purposes only. You might find more details about this item on the OHM / Avatar website.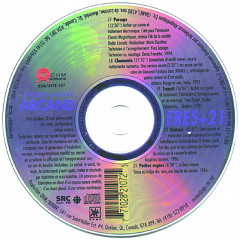 Eres + 21
;

Écrire fait du bruit