Composer(s): Robert Normandeau, Pierre Bastien, Yee-King, D'Arcangelo, Cylob, Bochum Welt, DMX Krew, Leila, Astrobotnia, JP Buckle, Amen Andrews, Bogdan Raczynski, Ensemble, Slipper, Like A Tim, The Gentle People, Global Goon, PP Roy, Aphex Twin
… the highlights of the record in fact have the least to do with electronica… — Igloo, USA
CAT 1000 / 2003
UPC/EAN 666908000124
Not in catalogue
This item is not available through our web site. We have catalogued it for information purposes only. You might find more details about this item on the Rephlex website.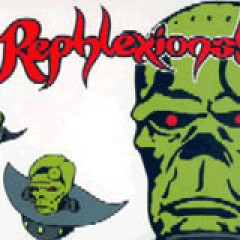 Rephlexions
!
An album of braindance
Various artists
Not in catalogue

Not in catalogue
In the press
Mr Bliss,

Igloo

, March 13, 2004

… the highlights of the record in fact have the least to do with electronica…
Mr Bliss,
Igloo
, March 13, 2004
Richard D James' (better known as Aphex Twin) label Rephlex has now been kicking along for twelve years or thereabouts, and has often been viewed as Warp Record's strange-little-brother-label minus the press attention; possibly due to its more eclectic and varied artist roster. Rephlexions clumsily collates nineteen tracks from the label's wonderfully schizophrenic back catalogue.
Yee King opens the compilation with "Goodnight Toby" which unfortunately is a piece of generic electronica with it's simplistic 'black keys' melodies and uninspired arrangements that all combine to sound (un)remarkably like a demo of someone trying very hard to emulate the so called hall of fame of IDM, namely Squarepusher, U-Ziq and Aphex Twin. Not an ideal start to the compilation at all.
The Italian duo of twin brothers D'Arcangelo salvage proceedings to a degree with "Shipwreck." Arriving with clattering and disjointed half-speed beats, the track grows toward a much more aggressive electro climax, with smatterings of wibbly, muted bell-tones.
Cylob delivers a fairly safe and straight up electro workout, devoid of any of his playful experimentation that has graced his previous recorded output. Italian Bochum Welt's contribution "Radiopropulsive" is really showing its age, but still reminds of a time when simplicity and grace were still acceptable features of electronic music.
Pierre Bastien, Slipper (featuring ex-Damned drummer Rat Scabies) and Robert Normandeau provide more abstract pieces that lift above the more standard electronica (or braindance according to Rephlex) fare of the majority of the compilation.
Notable absences include Mike Paradinas' influential early material circa Tango n' Vectif, and Squarepusher's pre-Warp release Feed Me Weird Things oddities.
As with any label retrospective fashioned compilation, the large dynamic range causes a few flat spots for the listener already accustomed to the label, however to the uninitiated, this mix of tracks is an apt display of Rephlex's unique and ever growing roster. Interestingly, the highlights of the record in fact have the least to do with electronica, which is a very encouraging thought in regard to the future of Rephlex as a label.
… the highlights of the record in fact have the least to do with electronica…