For us, electroacoustic music is as relevant to dance as instrumental music, if not more. — Surgery Radio, Canada
… ambiance complètement surréaliste et par moments aquatique. — SOCAN, Paroles & Musique, Canada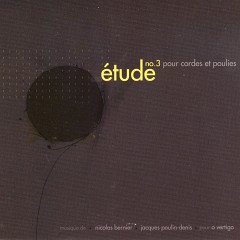 Étude no 3 pour cordes et poulies
Notices
The music of Étude no 3 pour cordes et poulies reveals itself as a metaphor of what is imperceptible in human thought. It explores the mind's desire to raise the sails and its propensity to vanish while always constrained to the physicality of the body, forced to remain earthbound and rational.
To listen to Étude no 3 pour cordes et poulies, is to stand in the belly of a ship, on the edge of a pier, or in a train watching the landscapes pass by. The object of the project was to create new places, meta sound environments that emerge from many landscapes brought together in music. Fascinated by soundscapes, the intention of the composers is not merely to contemplate or document these as ecological occurrences, but to fully integrate and impart them with an earnest role in the musical composition. To them, a field recording is an ideal material to articulate music.
"Cordes" being the French word for rope or string, the initial version of this music focused on stringed instruments such as guitars, violins and cello. As the project evolved, the composers gradually moved away from these, keeping only their essence and artifacts, their melodic and harmonic structures, and musical textures. Wanting to create music that is more allegorical, these instruments were replaces with real ropes and rigging, pulleys and other unusual objects.
The result is a combination of electronic music and soundscapes that create a deeply immersive environment. Through its tableaus, it is possible to distinguish the reminiscence of a music that was once instrumental, depicting the boundless and the tumultuous nature of human thought.
This music was composed by Nicolas Bernier and Jacques Poulin-Denis for the choreography Étude no 3 pour cordes et poulies by O Vertigo.
Nicolas Bernier [iii-07]
In the press
For us, electroacoustic music is as relevant to dance as instrumental music, if not more.

Gilles Boisclair, SOCAN, Paroles & Musique, no. 14:3, September 1, 2007

… ambiance complètement surréaliste et par moments aquatique.

… music that has the precision, inner life and depth of field inherent to accomplished electroacoustic work…

Réjean Beaucage, La Scena Musicale, no. 5:3, May 1, 2007

… la musique rappelle par moments la vastitude des ambiances fabriquées d'un Luc Ferrari…

Frans de Waard,

Vital

, no. 572, April 16, 2007

… the music is very vibrant and lively.
Blog
Étude no 3 pour cordes et poulies, the latest release from the Ekumen label, is a commission to Nicolas Bernier and Jacques Poulin-Denis by the dance company O Vertigo, for Ginette Laurin's Étude no 3 pour cordes et poulies. The premiere of this choreography to…