eXcitations does a good, if not fantastic job. — AllMusic, USA
… the extracts presented can seduce beginners… — Ici Montréal, Québec
Music "concrète" is over 50 years old; the label empreintes DIGITALes celebrates its 10th year, and offers more than 50 titles. eXcitations, our first sampler disc, browses through the collection, picking up here and there 22 excerpts of works by as many composers from North America & Europe. Sampling through. This sound-journey reflects the wide spectrum of electroacoustic music realities—acousmatic, concrète, electronic, experimental…—focused on by empreintes DIGITALes. Music to be listened into.
IMED 0050 / 2000
UPC/EAN 771028005024
Total duration

:

46:21
Not in catalogue
This item is not available through our web site. We have catalogued it for information purposes only.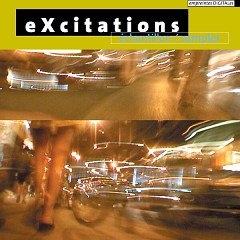 eXcitations
Sampler
Various artists