Canada Council for the Arts • SODEC
Québécois electroacoustic music has earned a place in the hearts of avant-garde music lovers everywhere… — electrocd.com, Québec
… a vivid and engrossing concoction… — Audion, UK
IMED 0158 / 2001
UPC/EAN 771028015825
Total duration

:

56:32
IMED 0158_NUM / 2001
UPC/EAN 771028015887
Total duration

:

56:32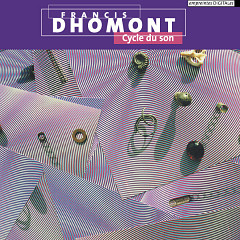 Cycle du son
[Cycle of Sound]
Notices
This 'Cycle' celebrates sound (a major discovery of the twentieth century) and concrete music. It is a fiftieth-anniversary homage to the inventiveness of Pierre Schaeffer, who clearly created an upheaval in the world of music that has had no precedent. Drawing on the same sound material which was forged from the first movement of Schaeffer's Étude aux objets, as well as from a personal collection of sounds that have been stored away over the years, these four pieces go through a process where they develop out of each other, question each other, echo each other, and complete each other through allusions, commentaries, metonymies, and continuations. With poetic freedom they both evoke a historic journey and propose a connection between the object of sage Schaefferian observation and the wildest "metamorphologies" of sound art. Years after its composition, Novars, the third part of this cycle but the first to be composed, remains the section around which the entire work turns.
Francis Dhomont [xii-01]
In the press
François Couture, electrocd.com, March 22, 2004

Québécois electroacoustic music has earned a place in the hearts of avant-garde music lovers everywhere…

François Couture, electrocd.com, October 15, 2003

MB, Testcard, no. 13, July 1, 2003

Alan Freeman, Audion, no. 48, June 1, 2003

… a vivid and engrossing concoction…

Réjean Beaucage,

Circuit

, no. 12:3, September 1, 2002

It is pure entertainment for the adventurous music-lover.

PhR, Mouvement, no. 18, September 1, 2002

Stefan Hetzel, Bad Alchemy, no. 40, August 1, 2002

4/5

T™, Black, no. 28, July 1, 2002

Jeremy Keens, Ampersand Etcetera, no. 2002_8, June 20, 2002

A classic(al) musique concrète album, very listenable and endlessly satisfying.

Catherine Perrey, Ici Montréal, June 13, 2002

Voyage vertigineux, plongée sonore, pour mieux nous immerger ou coeur du son.

SVS, Audiotest, no. 11, June 1, 2002

Frans de Waard, Vital, May 23, 2002

Matthew McFarlane,

Where's the Beat

?

, May 6, 2002

Dhomont

always draws us to his unique sonic environment.

Philip Clark,

The Wire

, no. 220, May 1, 2002

Dhomont

's piece is superbly crafted…

François Couture, AllMusic, May 1, 2002

His touch, so easily recognizable (in the movements, the colors, the narrative), remains strong.

… the shine of his art is this mixture of seriousness and humor, in an almost burlesque, Rabelaisian style. This goes straight to the heart of the listener…

Anatoly Motkin, Vesty, no. 12, March 21, 2002

François Tousignant, Le Devoir, March 2, 2002

Encore une fois,

Dhomont

réussit le miracle d'éviter le piège de la facilité, nous faisant saisir l'insaisissable…

Randall Smith, The WholeNote, no. 7:5, February 1, 2002

If I were asked to recommend a single CD to introduce one's ear to the world of musique concrète, I would say

Cycle du son

.
More texts
Deep Listenings no. 24
Blog
Francis Dhomont, nominee for "Premiere of the Year" at the Conseil québécois de la musique's Opus prizes, will begin in February 2005 a series of activities in Germany and in the United Kingdom. Firstly, he will attend a composition residen…

Several new electrocd.com releases ranked well on Vancouver's CJSF experimental charts for the May 21 to June 17, 2002 period. The No Type double CD compilation, The Freest of Radicals, ranked 4th. Chemin de fer, the new CD by sound artis…