Canada Council for the Arts • SODEC
Prix Opus 2003-04: Disque de l'année
Paul Dolden is one of the most innovative artists out there right now. — Avant Music News
Aux atmosphères très prenantes s'ajoutent de larges citations musicales, dans une orgie de références très ludiques. — SOCAN, Paroles & Musique, Canada
3 works for fixed medium (tape) from 1987-1989 entirely remastered + 2 new mixed works.
IMED 0369 / 2003
UPC/EAN 771028036929
Total duration

:

74:06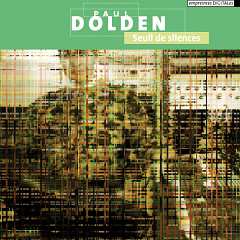 Seuil de silences
[Threshold of Silences]
Notices
In the late 1970's I started to write and produce music involving hundreds of parts or tracks. In the early days, the analogue recording medium was very noisy when bouncing (or premixing) tracks together. Things improved throughout the 1980's and '90's, but a large multitrack digital tape recorder was still out of my financial reach. By the late 1990's the new computer and hard drive speeds finally provided me with an affordable multitrack solution. For the first time in my life I was able to achieve the balance between individual voices that I had so carefully notated in the original scores. I achieved further musical clarity and a new depth of sound by using quality compression, equalisation and reverb. To remaster, I went back to the individual tracks. This was a huge undertaking. For example, a piece like Below the Walls of Jericho (1988-89) may be only 14 minutes and 30 seconds long, but it is a large tape work comprising eighty hours of original recorded materials.
Recordings always 'freeze' or crystallise musical and spectral meaning for the listener. An odd sound combination that you have grown fond of in the old master may not appear in the same way in the new one. However, I think you will agree that I have stayed true to the original compositions. I resisted changing any of my original compositional decisions on the three tape works originally released on the 1990 CD The Threshold of Deafening Silence (Tronia, TRD 0190).
I invite you to discover many new levels of meaning and clarity in the new masters, which are much closer to my original artistic intention.
Paul Dolden [x-03]
The creation of the solo tape compositions involves the composition of several hundred simultaneous musical parts or lines on large manuscript paper. Each part or line is individually performed on an acoustic instrument and recorded. Once all several hundred parts have been individually recorded, they are digitally mixed together with usually no, or very little, signal processing or electronic effects. This working method allows for new and complex polyrhythmic and microtonal tuning relationships between parts that could never be performed by a live ensemble. This compositional technique also allows for unique orchestration and density possibilities that can be constantly transformed.
---
In creating these works for soloist(s) and tape, many details of the tape become masked by the soloist's sound. However, by being able to clearly hear one part, one gains a new perspective on my sound world, as the solo line often highlights fairly hidden musical gestures and directions. Moreover, one has the wonderful contrast between the tape, in which hundreds of musical parts often create anonymous massed textural effects, and hearing the soloist(s) with all their subjectivity, subtlety and detail they bring.
Paul Dolden [x-03]
In the press
Paul Dolden

is one of the most innovative artists out there right now.

Guy Marceau, SOCAN, Paroles & Musique, no. 12:2, June 1, 2005

Aux atmosphères très prenantes s'ajoutent de larges citations musicales, dans une orgie de références très ludiques.

Guy Marceau, SOCAN, Words & Music, no. 12:2, June 1, 2005

Tobias C van Veen, e/i magazine, no. 4, June 1, 2005

… a prolific label for electroacoustic music as well as provocative experiments in conceptual sound.

Réjean Beaucage, La Scena Musicale, no. 10:6, March 1, 2005

La musique électroacoustique est également sortie du gala la tête haute…

Grant Chu Covell,

La Folia

, March 1, 2005

Today's tools make his restless works shine and vibrate. His rapid pace would stun a defibrillator.

Massimo Ricci, Touching Extremes, June 27, 2004

… hundreds of tracks are painstakingly crafted to form castles of imposingly powerful modulations…

This boy certainly wants to invade all your senses and completely take them over.

Tiina Kiik, The WholeNote, no. 8:10, November 1, 2003

Both first-time and seasoned electroacoustic listeners are well advised to check out both discs.

Éric Normand, JazzoSphère, November 1, 2003

… à découvrir d'urgence.

François Couture, AllMusic, October 21, 2003

…

Dolden

revisited his old pieces, cleaning up and remixing to bring out details that had been buried in the past. The result is staggering…

François Tousignant, Le Devoir, October 11, 2003

… en offrant des 'remix' de pièces […] tout devient effectivement plus clair […]

Dolden

se montre un peu comme Léonard de Vinci…

Réjean Beaucage, La Scena Musicale, no. 9:2, October 1, 2003

Toujours aussi impressionnant.
Blog
Composers Paul Dolden and Stéphane Roy each won an Opus prize in their respective categories. Dolden won in the "Disc of the Year — Musique actuelle, Electroacoustics" category for his recent album Seuil de silences (an expanded and entirely…

Thursday, February 3, 2005 /

General

Four of empreintes DIGITALes's 2004 discographic productions are nominated at the Opus prizes in the category "Disc of the Year — Musique actuelle, Electroacoustics": Fractures by Christian Bouchard, Le contrat by Gilles G…

Friday, December 10, 2004 /

General