… formidable; delicate and intense, transparent and edgy, elastic and firm; spiritually uplifting. — Sonoloco Record Reviews, Sweden
… the results are philosophically provocative. — The WholeNote, Canada
IMED 0371 / 2003
UPC/EAN 771028037124
Total duration

:

55:18
IMED 0371_NUM / 2003
UPC/EAN 771028037186
Total duration

:

55:18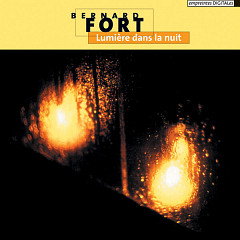 Lumière dans la nuit
[Light in the Night]
CAD 20.00

CAD 25.00 (-20%)

US+3.00+4.00
Notices
"In silence, solitude and darkness are born, mental images, inner energy, like a fragile speck of light radiating in the night, a bearer of hope."
Ten years went by between L'impatience des limites and Silence radieux. Ten years of ornithology, of teaching, of composing for a young audience, of concerts and various events. Ten years marked by three essential pieces, all commissioned by the Groupe de recherches musicales (Ina-GRM) and premiered in such a special room, the Salle Olivier Messiaen of the Maison de Radio France, truly a temple of acousmatic creation.
Bernard Fort [x-03]
In the press
Henryk Palczewski, Informator "Ars" 2, March 1, 2005

… formidable

;

delicate and intense, transparent and edgy, elastic and firm

;

spiritually uplifting.

Alison Melville, The WholeNote, no. 9:7, April 1, 2004

… the results are philosophically provocative.
More texts
Splendid E-Zine
Blog
Bernard Fort's lastest disc, Lumière dans la nuit(Light in the Night), will be officially launched in Europe on April 2, 2004 during a concert at Théâtre de la Villa Gillet (Lyon, France).…

Bernard Fort is devoted to ornithology and the study of the natural soundscapes. On Lumière dans la nuit ("Lights in the Night") three works are gathered, spanning ten years of creation in collaboration with France's Ina-GRM. A powerful fi…