Prix Opus 2003-04: Disque de l'année — Finaliste
… he makes an alliance with soundscape composition, glitch, and acousmatic art. — The WholeNote, Canada
Fractures offers moments of brilliance… — Splendid E-Zine, USA
IMED 0474 / 2004
UPC/EAN 771028047420
Total duration

:

54:44
IMED 0474_NUM / 2004
UPC/EAN 771028047482
Total duration

:

54:44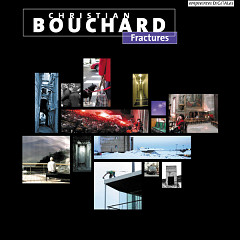 Fractures
Notices
To Stéphane Beaulieu, Martin Bédard, Fanny Britt, Yves Daoust, Anne Day-Jones, Nathalie Dussault, Antoine Laprise, Majo Vallée, and a very special thanks to Emmanuelle Léonard for her beautiful photographs.
[ii-04]
In the press
Darren Copeland, The WholeNote, no. 9:10, July 1, 2004

… he makes an alliance with soundscape composition, glitch, and acousmatic art.

Adrian Moore, SAN Diffusion, June 23, 2004

… truly original work…

I can't find one dull moment in

Bouchard

's pieces. He's the right man at the right place

!

François Couture, electrocd.com, March 22, 2004

Québécois electroacoustic music has earned a place in the hearts of avant-garde music lovers everywhere…

François Couture,

AllMusic

, March 10, 2004

… a demanding but very entertaining listen.
Blog
Four of empreintes DIGITALes's 2004 discographic productions are nominated at the Opus prizes in the category "Disc of the Year — Musique actuelle, Electroacoustics": Fractures by Christian Bouchard, Le contrat by Gilles G…

Friday, December 10, 2004 /

General

Christian Bouchard presented his first solo disc Fractures on February 14 2004 during the Rien à voir (15) festival while Denis Smalley remastered the works from his 1992 disc — which has been out of print for over a year — for the br…