Canada Council for the Arts • SODEC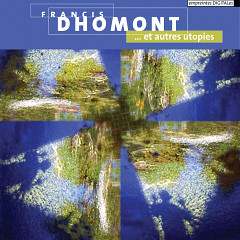 … et autres utopies
Notices
Utopian, these aural mirages surely are — not in the political sense of the Ideal City, but in the etymological sense of ou-topos: belonging to no specific location, except for imaginary territories; creatures of illusion and, in this case, sound. These aural "non-lieux," these chimeras of perception, resulting from treatments and made from unlikely parts that are loosing their identity, stripped off of any audible source, are fictional beings born out of a dreamer's nomadic invention.
Also utopian are — haven't it been said often enough? — these sonic structures attempting to avoid traditional music codes, disregarding their imperatives, and offering a stream of mental images to our psyche. However, do we really have to be reminded of all these things that we know so well? Certainly, for in these cybernetic times, is there anything more necessary than the reality of utopia?
So, here are five fantasies to be listened to with eyes closed; in sequence, they dream up sound in space, mankind's revolt against its own nature, a few light phenomena, a symbolic journey, and the tumultuous manifestations of exaltation.
Francis Dhomont [English translation: François Couture, viii-06]
In the press
Grant Chu Covell,

La Folia

, September 1, 2007

Jos Smolders, Earlabs, June 26, 2007

Francis Dhomont

presents his intellectual preoccupations with the air of the experienced artist who is in total control of his sonic material…

Massimo Ricci, Touching Extremes, June 1, 2007

Music with a high rate of emotional value in one of the best acousmatic releases of 2007.

Rigobert Dittmann, Bad Alchemy, no. 54, May 1, 2007

KPO, Gonzo Circus, no. 80, April 1, 2007

Michele Casella, Rockerilla, April 1, 2007

This "collected works" present the most introspective and abstract side of

Dhomont

…

Jan Willem Broek, De Subjectivisten, March 22, 2007

Kabbelende klanken, acceleraties vol elektronica, dreigende ambient en drones, liefdevolle stiltes en een bevreemdende atmosfeer, wisselen elkaar in afwisselend tempo af. Van natuur tot surrealisme.

… exquisite coherence in the composition…

François Couture,

AllMusic

, February 22, 2007

… the man's unique touch and audio plasticity are as keen as ever.

Réjean Beaucage, La Scena Musicale, no. 12:3, November 1, 2006

Le compositeur y démontre, une nouvelle fois, son étonnante maîtrise du genre.
Blog
The 4 recent releases that are finalists for Opus Prize (Disc of the Year — Musique actuelle, Electroacoustics) are: Alter ego by Pierre Alexandre Tremblay … et autres utopies by Francis Dhomont Geisteswissenschaften by A_dontigny petits B…

Wednesday, December 12, 2007 /

General

We celebrate the last day of Francis Dhomont's 80th year with a 7th CD dedicated to his work: … et autres utopies.…