Canada Council for the Arts
… it makes us more aware of the richness of our day-to-day sound world. —
Eine gute und eine ziemlich gute CD, beide — wie für empreintes DIGITALes üblich — ansprechend verpackt… — Skug, Austria
IMED 0683 / 2006
UPC/EAN 771028068395
Total duration

:

67:10
Stereo
AAC, 320 kbps
Dolby Digital, 48 kHz, 24 bits
MP3, 320 kbps
48 kHz, 24 bits
DVD-Audio — Advanced Resolution: Surround 5.1 (MLP 4824) + Stereo (MLP 4824) •• DVD-Video [NTSC, multi-region]: Surround 5.1 (DTS, Dolby Digital) + Stereo (Dolby Digital) •• DVD-ROM: MP3 (320 kbps), AAC (320 kbps) files ••• Stereo Mastering: Ernest Cholakis, Numerical Sound
IMED 0683_NUM / 2006
UPC/EAN 771028068388
Total duration

:

67:10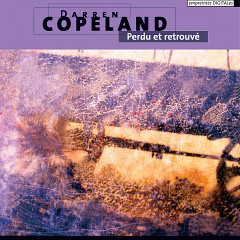 Perdu et retrouvé
DVD-Audio Surround

5.1

2.0

IMED 0683

US+3.00+4.00
Notices
Memories become forgotten and then they return to the surface.
People become forgotten and then are discovered again.
Articles are lost and then while searching for something else are found again.
The journeys and stories conveyed in the works on this disc are united by a similar tension between abandonment and discovery. There is the story of the people falling from buildings in They're Trying to Save Themselves whose bodies might be lost beneath a crumpled monolith but the memory of which has lead to even more tragic consequences. Early Signals uncovers the abandoned roots of radio broadcasting. There is the inward feeling of loss and abandonment conveyed in Always Becoming Somebody Else. On Schedule and Streams of Whispers approach the 'lost and found' theme differently by finding and discovering new uses and meanings out of very trivial details of life. The Wrong Mistakes and Faith-Annihia assemble their form and meaning out of a series of colliding contradictions, mistakes, and unwanted directions. And finally, On a Strange Road reinforces the notion of a journey that is there in a number of these pieces — a journey that leads one to uncover something lost or forgotten.
Thanks to Nadene, Zachary and Alexander for their patience and trust when life gets hectic. Thanks to the many presenters of these works for their faith and support. Thanks to Christine Côté.
Darren Copeland, Brampton (Ontario) [ix-06]
In the press
Glen Hall, July 18, 2012

… it makes us more aware of the richness of our day-to-day sound world.

Heinrich Deisl,

Skug

, no. 71, September 6, 2007

Eine gute und eine ziemlich gute CD, beide — wie für empreintes DIGITALes üblich — ansprechend verpackt…

Grant Chu Covell,

La Folia

, September 1, 2007

Jean-François Micard, D-Side, no. 41, July 1, 2007

… this increased transparency of delivery removes the tinted glass between artist and listener.

… it is comforting to know that a human is behind it…

… a Maestro of dark oil paintings inside large, forgotten halls of Amnesia castles at the periphery of sonic perception

!

François Couture, AllMusic, January 11, 2007

… a rather calm and peaceful album…

Ios Smolders, Earlabs, December 10, 2006
Blog
Perdu et retrouvé by Darren Copeland is the 5th DVD-Audio by empreintes DIGITALes. On it Copeland presents 8 new and recent works in stereo and 5.2 Surround 5.1.…