The University of Sheffield
Het resultaat is een bijzonder geslaagde en boeiende mix van noise, dark ambiant en concrete experimenteerdrift. — Gonzo Circus, Belgium
… aussi précieux qu'excessivement sensible et évolutif, et donne une impression d'intervention live permanente. — Octopus, France
IMED 0684 / 2006
UPC/EAN 771028068425
Total duration

:

67:49
IMED 0684_NUM / 2006
UPC/EAN 771028068487
Total duration

:

67:49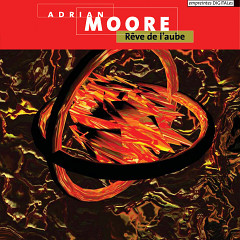 Rêve de l'aube
Notices
In compiling this disc I have selected works from 2000-04. To those familiar with Traces (empreintes DIGITALes, IMED 0053), there should be some similarities but hopefully a move forward, some new sounds, a different approach to texture and gesture and the nature of the dialogue that exists between composer and listener.
Adrian Moore, Sheffield [ix-06]
In the press
Peter Vercauteren, Gonzo Circus, no. 85, March 1, 2008

Het resultaat is een bijzonder geslaagde en boeiende mix van noise, dark ambiant en concrete experimenteerdrift.

Laurent Catala, Octopus, November 1, 2007

… aussi précieux qu'excessivement sensible et évolutif, et donne une impression d'intervention live permanente.

Heinrich Deisl,

Skug

, no. 71, September 6, 2007

Eine gute und eine ziemlich gute CD, beide — wie für empreintes DIGITALes üblich — ansprechend verpackt…

Massimo Ricci, Touching Extremes, September 1, 2007

… the most fascinating choices of colours, masterfully seaming environmental recordings from various European locations…

Jean-François Micard, D-Side, no. 41, July 1, 2007

Frans de Waard,

Vital

, no. 577, May 21, 2007

… certainly one of the better ones from the label.

Adrian Moore

has risen to the level of the internationally most renowned sound workers, like the aforementioned

Parmegiani

and

Bayle

, as well as

Risset

,

Lejeune

and…

Ferrari

.

A carefully crafted electroacoustic world approached from an unusual angle.
Blog
Rêve de l'aube is the 2nd disc by UK composer Adrian Moore on empreintes DIGITALes. It brings together 4 recents stereo works.…