Justel appears as still interested in forms of elemental purity, and that's a major plus. — Touching Extremes, Italy
Jede Sekunde geschieht die Verwandlung. Sagenhaft. — Terz, Germany
IMED 0785 / 2007
UPC/EAN 771028078523
Total duration

:

78:26
IMED 0785_NUM / 2007
UPC/EAN 771028078585
Total duration

:

78:26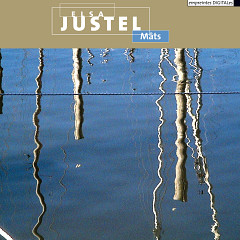 Mâts
Notices
The electroacoustic works of Elsa Justel are striking for their rich morphological invention: canvases made of minuscule yet consistently varied sounds; stratified figures made of multiple simultaneous shots, intertwining with one another; tremblings turning into sharp and lightning objects; objects of all sizes, objects so diverse they relentlessly keep hold of your attention. This is undeniably a form of music demanding active listening, a state of awareness to the smallest palpitations, music that always has rich meanings to unveil, no matter how many times you listen to it. In fact, the more you listen to it, the more it becomes both mysterious and habitable. It is music to be cherished for its sophistication, vividness and subtlety. This music imitates nothing; it is there, warm and savant, controlled yet free, vigorous and intelligent. It adds to the real world a presence consisting of its own immanence. It is this presence that Elsa Justel has been trying to bring forth, through her unyielding work as a composer, and succeeding so rightfully that she immediately wins us over. I see Elsa Justel's music as surplus life, absolutely essential to our existence.
Horacio Vaggione, Paris (France), May 2005 [English translation: François Couture, x-07]
Like the reflection of masts distorted by the ebb of water, this collection of music reflects my passion, happiness, anger, and anguish…
With this disc, I would like to pay tribute to everyone who has exerted an important influence on my musical thinking. The sensations, reflections and actions that participated to my learning and creative process are evoked herein, as in a collage.
The first stimulations from Antonio Galiana, my harmony teacher at the conservatory; the joy of discovery, as seen through my own tears, in the composition classes of Virtu Maragno; the astonishment in front of the paradoxical musical ideas of José Maranzano, who showed me how music is not made only of sounds; the exhortation to go on with my adventures from Francisco Kröpfl; the taste for introspection Horacio Vaggione's discretion inspired in me; the warm professional and personal support of Alex Martinez; Roger Cochini's devotion to composition; the encouragement given by Beatriz Ferreyra in difficult times; the pleasure of playing with sounds, borrowed from Thomas Kessler; the casual drive coming from Carmelo Bernaola; the art of synthesis in writing revealed by Bohuslav Schaeffer; the unconditional complicity of my husband Juan Majling; … and so many people, dead or alive, musicians or not, friends, occasional acquaintances — the list would go on and on — who contributed to the development of my vocation as an artist.
Elsa Justel [English translation: François Couture, x-07]
In the press
MB, Testcard, no. 18, February 1, 2009

Åsa Helena Stjerna, Nutida Musik, no. 2008:3, December 1, 2008

Massimo Ricci, Touching Extremes, June 1, 2008

Justel

appears as still interested in forms of elemental purity, and that's a major plus.

Honker,

Terz

, April 1, 2008

Jede Sekunde geschieht die Verwandlung. Sagenhaft.

Elsa Justel's new CD makes me feel that same way, opening an atmosphere of great possibility and long wonders to my perception

!

Marco Castagnetto,

Music Club

, no. 182, March 1, 2008

Tobias Fischer,

Tokafi

, February 15, 2008

… an album of serious academic electronics that is both sonically explorative and thoroughly enjoyable is a feat to be celebrated.
Blog
empreintes DIGITALes is releasing one CD and two DVD-Audio: Elsa Justel (Argentina / France): Mâts (CD-Audio) John Young (New Zealand / England, UK): Lieu-temps Andrew Lewis (Wales, UK): Miroirs obscurs…

empreintes DIGITALes continue its pre-order special (reduction of 20%) on its 3 next releases: Elsa Justel (Argentina / France): Mâts (CD-Audio) John Young (New Zealand / England, UK): Lieu-temps Andrew Lewis (Wales, UK): Miroirs obscurs Th…