M&R • Communauté française de Belgique (Direction générale de la culture, Service de la musique)
Vande Gorne has an evident penchant for indefinite abstraction, a field where her studio mastery shines brightly, just check the gorgeous spectra of Figures d'espace. — Touching Extremes, Italy
Annette Vande Gorne has administered Schaeffer's assets in magnificence, developing her own brilliance out of these tantalizing traditions. — Sonoloco Record Reviews, Sweden
IMED 0890 / 2008
UPC/EAN 771028089093
Total duration

:

83:44
Stereo
AAC, 320 kbps
Dolby Digital, 48 kHz, 24 bits
MP3, 320 kbps
48 kHz, 24 bits
DVD-Audio — Advanced Resolution: Surround 5.1 (MLP 9624 / 4824) + Stereo (4824) •• DVD-Video [NTSC, multi-region]: Surround 5.1 (Dolby Digital) + Stereo (4824) •• DVD-ROM: MP3 (320 kbps), AAC (320 kbps) files
IMED 0890_NUM / 2008
UPC/EAN 771028089086
Total duration

:

83:44
Stereo
48 kHz, 24 bits
96 kHz, 24 bits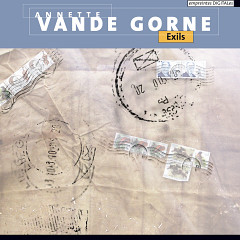 Exils
DVD-Audio Surround

5.1

2.0

IMED 0890

US+3.00+4.00
Notices
Exiles: times of crisis, wandering, transformation, renewal.
A modern composer from the past, Claude Debussy, gets analyzed 100 years later by the ear and knowledge of a classically-trained female composer who has chosen voluntary "exile" in acousmatic music: Ce qu'a vu le vent d'Est.
An entirely vocal piece shakes up cultures from all over the world and from the past of Europe, and yet these voices are unrecognizable, in exile, as they have been transformed by the alchemy of the electroacoustic studio: Vox Alia.
An immigrant French-speaking Arab poet casts a sensitive, lucid and uncompromising look at Western civilization, in the form of a wounded Easterner's very long and intense cry over his shattered hopes for a better civilization: Fragments de lettre à un habitant du Centre.
A French poet and ex-ambassador whose possessions and family have been taken hostage by the Nazis during World War 2 tells, while in exile on a Maine island, of the inner destitution of the exile and the universal conceit of war actions: Exil, chant II.
The madness of Van Gogh as the answer to the inadequacy between the values of the market society and the values of the upright artist: Crise.
The reality of the known world renewed, trans-figured by the artist's listening, re-presented and re-played within the figurative space of the loudspeakers: Figures d'espace.
Annette Vande Gorne, Ohain (Belgium) [English translation: François Couture, x-07]
Blog
The 11th Sound Travels festival started on June 14, 2009 in Toronto and will last until October 31. On August 7 Nicolas Bernier will premiere his work Courant.air and will present a 8-channel version of Les arbres. Also on the program…

empreintes DIGITALes is releasing two DVD-Audio in "Surround 5.1": Annette Vande Gorne (Belgium): Exils Laurie Radford (Canada): Les ponts de l'espace…