Canada Council for the Arts • SODEC
Prix Opus 2008-09: Disque de l'année — Finaliste
… a couple of new releases from award-winning electroacoustic composers… — The Sound Projector, UK
Mostly, though, it's a maze of dreams you journey through Ned Bouhalassa's opening work on this phonogram. I can even hear and feel the swinging on a swing; that fluctuation in gravity and that smooth air rushing back round your face… — Sonoloco Record Reviews, Sweden
IMED 0895 / 2008
UPC/EAN 771028089598
Total duration

:

76:37
Stereo
MP3, 320 kbps
48 kHz, 24 bits
DVD-Audio — Advanced Resolution: Surround 5.1 (MLP 4824) + Stereo (4824) •• DVD-Video [NTSC, multi-region]: Surround 5.1 (Dolby Digital) + Stereo (4824) •• DVD-ROM: MP3 (320 kbps) files
IMED 0895_NUM / 2008
UPC/EAN 771028089581
Total duration

:

76:37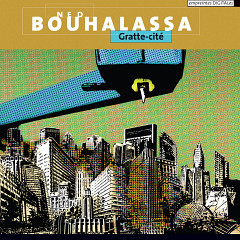 Gratte-cité
[Cityscraper]
DVD-Audio Surround

5.1

2.0

IMED 0895

US+3.00+4.00
Notices
The title of this disc translates to "cityscraper." In preparing the sonic materials for these pieces, I selected, like a DJ, what I liked out of my large collection of recordings, though in my case, these are recordings of city soundscapes. I then imagined a fantasy, where a gigantic vinyl record's grooves are replaced by the jagged outline of skyscrapers, and I, a giant, drop an impossibly-large needle and begin to 'play' the city.
This disc is dedicated to my wife Brenda Keesal, who is also my best friend, my biggest supporter, and an excellent judge of what works.
Ned Bouhalassa [viii-08]
In the press
… a couple of new releases from award-winning electroacoustic composers…

Mostly, though, it's a maze of dreams you journey through

Ned Bouhalassa

's opening work on this phonogram. I can even hear and feel the swinging on a swing

;

that fluctuation in gravity and that smooth air rushing back round your face…

Gratte-cité

est un disque qui attise la curiosité car à la différence de beaucoup d'albums de musique électro-acoustique, celui-ci sort des sentiers battus.

Pavel Zelinka, His Voice, September 1, 2009

… his music is surprising and entertaining, but also deep, image-filled and ear-intriguing.

Vittore Baroni, Rumore, no. 209, June 1, 2009

ED,

De:Bug

, no. 133, June 1, 2009

Bei

mOrpheus

treibt es die dunklen Klangfelder von Québec nach Berlin, bis zum Zoo und zum Alexanderplatz.

Jos Smolders, Earlabs, April 5, 2009

… gutsy and urban electroacoustic music. Definitely a leap forward

!

[…] This is a very strong collection of works.

… a couple of new releases from award-winning electroacoustic composers…

Frans De Waard,

Vital

, no. 669, March 9, 2009

… quite a surprising [disc], a great one for this label.
Blog
Today the eclectic radio show Délire actuel announced the "Top 30" of its Demanding Music list which includes Gratte-cité by Ned Bouhalassa.…

Tuesday, December 29, 2009 /

General

Many electrocd.com artists are nominated for the 13th Opus prizes, awarded since 1996 by the Conseil québécois de la musique. empreintes DIGITALes' discs Chroniques d'une séduction by Jacques Tremblay and Gratte-cité by Ned Bouhalassa; as well as…