… un'opera che non mancherà di strappare consensi ammirati anche fra coloro che sono meno addentrati nel genere. — The Vibes, Italy
L'art du mixage atteint ici des sommets et l'œuvre finale, découpée en trois mouvements, surprend par sa cohésion… — Octopus, France
Prix Qwartz Expérimental 2010 — Nomination
CD (IMED 0898)
Label

:

empreintes DIGITALes
IMED 0898
2008
UCC 771028089826
Total duration

:

60:00
OGpak
125 mm × 125 mm × 10 mm
50 g
Download (IMED 0898_NUM)
In the press
Dionisio Capuano,
Blow Up
, no. 139, December 1, 2009
Vito Camarretta, The Vibes, July 9, 2009
Nella maggior parte delle arti figurative è raro che sotto il coordinamento di un mastro-artigiano, ben 66 mani apportino il loro contributo, nell'ambito della musica elettronica una simile opera è invece più che possibile, dimostrandolo ampiamente questo piccolo capolavoro di assemblaggio sonoro del rinomato compositore britannico Mathew Adkins che con l'ausilio dei contributi di 66 diversi compositori e manipolatori sonori — tra cui compaiono nomi già parzialmente noti ai nostri lettori e non solo, quali AGF, Scanner, Si-cut.db, Francisco López, Lawrence English, Tim Hecker, Terre Thaemlitz, Vladislav Delay, Christian Fennesz, David Toop, Mira Calix e via dicendo… —, costruisce un'affascinante scultura sonica, pensata quale tributo per il 60esimo anniversario della musique concrète con riferimento in particolare al contributo pionieristico di Pierre Schaeffer, che può ritenersi senza alcun dubbio colui che pose le basi teoretiche del concretismo sonoro, favorito dalla diffusione di tecnologie sonore quali i primi registratori su nastro magnetico e i microfoni. L'idea di evitare la classica antologia è saltato in mente all'attuale direttore artistico del Huddersfield Contemporary Music Festival, Graham McKenzie, il quale ha lanciato un progetto collettivo coordinato dallo stesso Adkins per dimostrare quanto ancora fossero influenti le idee di Schaeffer sul repertorio di musicisti e compositori di elettronica (intesa in senso molto ampio) ed elettroacustica contemporanei. Progetto che ha suscitato immediatamente numerosi consensi. Nata l'idea del [60]Project, è cominciata una fitta serie di scambi di idee ed inviti ad aderire al progetto via posta elettronica estesi a laptoppisti, artisti sonori, musicisti, sperimentatori nell'ambito del turntablism, ai quali fu chiesto di immagazzinare materiale sonoro di sorta senza alcuna particolare istruzioni in server ftp - da singoli oggetti sonori a brevi improvvisazioni elettroniche -, quasi come se si dovessero mettere assieme le parole di un vocabolario immaginario. La seconda fase della parte preparatoria dell'opera consistette in una rielaborazione dei singoli lessemi sonori durante la quale ogni artista coinvolto nel progetto si è di volta in volta concentrato su singoli suoni o sull'assemblaggio di parti sonore per ricavarne architetture più complesse, quasi come se dalle parole iniziali dovessero ottenere delle frasi; ultimata tale fase, si chiedeva ai compositori di riaggiornare lo stesso server ftp con i risultati ottenuti.
A questo punto è intervenuto Mr. Adkins, il quale con questa gigantesca mole di materiale sonoro si è recato per l'assemblaggio finale presso lo studio Ina-GRM di Parigi in cui, seguendo gli stessi precetti compositivi di Francis Dhomont per la Frankenstein Symphony, ha cominciato ad amalgamare ogni frase in un discorso di senso compiuto, evitando di ricorrere per quanto possibile ad eccessive trasposizioni e creando vere e proprie ensemble immaginarie in cui Adkins per esempio si è divertito a far duettare Fennesz prima con Hecker e poi con eRikm o a costruire un fittizio trio vocalico composto da AGF, Iris Garrelfs e Maja Solveig Kjelstrup Ratkje e via via in un'infinità di combinazioni e di gruppi costruiti artificialmente in studio, cercando contemporaneamente di dare una qualche coesione all'opera di assemblaggio di modo da ricavarne una vera e propria opera suddivisa in 3 sezioni (ciascuna delle quali dura all'incirca una evntina di minuti) e varie sottosezioni caratterizzate da un certo grado di omogeneità. Nella prima (quella che ci ha entusiasmato maggiormente delle tre) Adkins cerca quasi di renderizzare una sorta di graduale transizione da astrazioni ambient al concretismo e alle acusmie pure, sia strumentali che sperimentali ed elettroniche; la seconda pur rimanendo fedele ai canoni della musica concreta si concentra su materiale d'appendice aggregato in maniera da ottenere due soundscapes a tema marino (davvero mozzafiato in certi passaggi) e urbano; infine la terza cerca di mediare nella prima sottosezione fra le due sezioni precedenti e infine propone delle escursioni/esercizi sul rumorismo e sull'uso delle voci. In realtà la suddivisione in aeree non riflette delle reali distinzioni, ma dovrebbero essere più che altro una sorta di didascalia per l'ascolto tant'è che alcuni suoni o frasi sonore ricorrono in sezioni differenti. anzi verrebbe da dire che vi è un qualche grado di coesione fra le parti in cui idealmente sarebbe suddivisa l'opus. Il risultato — già performato in vari angoli del pianeta ad audiences dai timpani fini e affamati di questo genere di suggestioni duitive — ad ogni modo è davvero strabiliante per aver seguito questo percorso compositivo "democratico" e si presta a vere e proprie immersioni uditive coinvolgenti e senza grossi sbalzi fra i diversi setting sonori essendo quasi del tutto priva di transizioni traumatiche, caratteristica già notata per esempio da Ivan Hewlett sul Telegraph, che facendo notare il contrasto con la musica del padre del concretismo scriveva nel preesentare il [60]Project: "The sounds have a smooth sophistication that contrasts hugely with the bumpy graininess of Schaeffer's music, but Adkins still admires his pioneering experiments." Nonostante i condivisibili rilievi sul Telegraph, ci pare centrata a pieno l'idea che animava il progetto e la predetta influenza dell'ing. Schaeffer sul modo di fare elettronica in certi circoli accademici oggi è appalesata in un'opera che non mancherà di strappare consensi ammirati anche fra coloro che sono meno addentrati nel genere.
… un'opera che non mancherà di strappare consensi ammirati anche fra coloro che sono meno addentrati nel genere.
Jean-Claude Gevrey, Octopus, July 1, 2009
Vieux routards de la musique électroacoustique estampillée GRM (François Bayle, Christian Zanési) ou non (Francis Dhomont), expérimentateurs polymorphes (Conrad Schnitzler, David Toop) stars de l'électronique paysagiste (Christian Fennesz, Scanner), minimalistes ambient (Steve Roden, Lawrence English), platinistes de tout poil (eRikm, Janek Schaefer), abonnés au catalogue d'Empreintes Digitales (Gilles Gobeil, Jonty Harrison) et bon nombre d'autres créateurs sonores de notoriété variable contribuent à cette réalisation pour le moins ambitieuse du compositeur britannique Mathew Adkins. L'occasion d'un tel rassemblement est la célébration des soixante ans de la musique concrète dont la paternité est attribuée à Pierre Schaeffer et sa première étude de bruit [Étude aux chemins de fer] en 1948. À l'invitation d'Adkins, chaque artiste a fourni une source de son choix ainsi qu'une courte improvisation à partir de ce même matériau. Dans un second temps, les différents fragments collectés ont été mis à disposition des 66 participants pour être retravaillés, recombinés sans consigne particulière. La somme considérable de sections sonores ainsi générée a ensuite servi de point de départ au compositeur qui les a assemblées à l'aide simplement de procédés d'édition, de raccourcissement et de superposition. L'art du mixage atteint ici des sommets et l'œuvre finale, découpée en trois mouvements, surprend par sa cohésion même si elle fourmille de directions, entremêlant stratégies concrètes et identités virtuelles, brouillant les cartes d'un monde sonore globalisé. Hommage aux techniques de montage d'hier, ce «projet des 60» n'aurait pourtant pu voir le jour sans la technologie d'échanges de fichiers d'aujourd'hui; une interdépendance entre les époques qui montre peut être le chemin vers le futur.
L'art du mixage atteint ici des sommets et l'œuvre finale, découpée en trois mouvements, surprend par sa cohésion…
De Britse componist/muzikant Mathew Adkins is lid van BEAST (Birmingham ElectroAcoustic Sound Theatre). Dit gezelschap houdt zich bezig met de wondere wereld van de elektro-akoestische muziek en musique concrète. Voor degene die deze muziek, waarvan de scepter overigens meestal in handen is van de Canadezen, niet kent is een eerste aanraking een bijzondere. Het is namelijk echt een uniek genre, dat zich dus ook niet echt laat vergelijken met andere genres. Het klinkt vaak alsof de natuur in elektronica is veranderd en je in de realiteit van de Matrix zit. Naar aanleiding van de 60ste verjaardag van musique concrète pionier Pierre Schaeffer is het idee ontstaan om een soort historisch overzicht te geven van significante, wellicht door hem beïnvloedde, werken en daarmee een nieuw origineel werk te creëren. En zo is [60]Project geboren. Adkins heeft druk heen en weer ge-e-maild en materiaal van maar liefst 66 artiesten gekregen om te gebruiken. De geluiden verwerkt hij tot nieuwe creaties, waarin de oorspronkelijke muziek soms niet eens meet te herkennen is. Hij maakt heel oorspronkelijke combinaties, bijvoorbeeld een geënsceneerd vocaal trio van AGF, Iris Garrelfs en Maja Ratkje of een duet van Christian Fennesz en Tim Hecker. Andere artiesten die materiaal hebben geleverd, ik zal ze niet allemaal noemen, zijn Mira Calix, Lawrence English, Natasha Barrett, Vladislav Delay, Francis Dhomont, Si-cut.db, Gilles Gobeil, Francisco López, Gert-Jan Prins, David Toop, Åke Parmerud, Scanner, Terre Thaemlitz, Janek Schaefer en Rechenzentrum. Van label- en genregenoten tot de meest uiteenlopende elektronica artiesten. Mathew Adkins kneedt er zijn unieke musique concrète bouwsels van die steeds weer onverwachte wendingen en geluiden kennen. Hij schept een parallel universum waar het ene biologerende avontuur en experiment na het andere aan de orde van de dag is. Meesterwerk!
Michael We,
Nonpop
, May 8, 2009
"Die Musique concrète, und das spürte ich vom ersten Tag an, ist nichts als die Kapitulation vor dem Unbestimmten, ist nichts als ein arg dilettantisches Glücksspiel und ungezügelte Improvisation." Aus einem Brief (1952) von Karlheinz Stockhausen an Karel Goeyvaerts
Vor rund 60 Jahren hat Pierre Schaeffer (1910-1995) die Musikwelt verändert. Mit dem gellenden Pfiff einer Dampflokomotive eröffnete er 1948 seine Etüde für Eisenbahnen, Etude aux chemins de fer. (Sie ist am Ende des Artikels übrigens nachzuhören.) Zum ersten Mal in der Geschichte der abendländischen Musik verwendete der Franzose reale Geräusche als kompositorisches Material und arbeitete mit deren Verfremdung, wie zum Beispiel durch die Manipulation der Abspielgeschwindigkeit. Außerdem gilt Schaeffer als Erfinder des Loops: Während seiner Ingenieurszeit beim Hörfunk entwickelte er ein Verfahren, mit dem bestimmte Abschnitte einer Schallplatte als Schleife wiedergegeben werden konnten. Dieser experimentelle Umgang mit Originalquellen wird seither, im Gegensatz zur seriellen Musik, als 'Musique concrète' bezeichnet. Definiert von Rudolf Frisius, einem Musikwissenschaftler und Spezialisten für Neue Musik, klingt das so: "Musique concrète ist die von Pierre Schaeffer eingeführte Bezeichnung für Musik, die technisch fixierte Klänge als Ausgangsmaterialien verwendet und bei deren Auswahl und Verarbeitung von den empirischen Gegebenheiten der konkreten Hörwahrnehmung und den Möglichkeiten ihrer Dokumentation und Weiterentwicklung in modernen Techniken der Klangaufnahme und -verarbeitung ausgeht."
Der junge Brite Mathew Adkins (*1972) ist ein geistiger Nachfahre Schaeffers, ein Nerd der elektronischen und elektroakustischen Musik. Als Komponist und bildender Künstler hat er bereits zahllose Preise für seine Werke und Installationen gewonnen. Adkins studierte zunächst französische Mittelalter- und italienische Renaissance-Musik, bevor er unter Jonty Harrison zur elektronischen Musik an die Uni von Birmingham wechselte. Zum 60sten Geburtstag der Musique concrète setzte er eine wahrhaft große Idee um: 60 internationale Soundkünstler sollten sich mit je einer Originalquelle an einer Jubiläumskomposition zu Ehren Schaeffers beteiligen. Am Ende wurden es sogar 66 Musiker, darunter Lawrence English, Christian Fennesz, Ambrose Field, Francisco López, Scanner oder David Toop, um nur einige zu nennen. (Eine komplette Liste aller Beteiligten könnt Ihr auf der nächsten Seite einsehen.)
Die Produktion fand in drei Stufen statt: Jeder der Teilnehmer lieferte zunächst ohne genauere Vorgabe einen rohen Sound ab. Alle diese Geräusche wurden auf einer Internetseite gesammelt. Anschließend bat Adkins die Künstler — wiederum ohne detaillierte Anleitung -, das Material zu bearbeiten. Einige konzentrierten sich auf wenige Quellen, die sie verfremdeten. Andere packten viele Teile wie bei einem Puzzle zu neuen Komplexen zusammen. Auch auf diese Ergebnisse konnte Adkins online zugreifen. Er sammelte die Einzelteile des ersten und zweiten Durchgangs im vergangenen Sommer ein und zog sich zum Komponieren in die Originalstudios von INA/GRM (Institut National Audiovisuel, Groupe de Recherches Musicales) zurück, die Schaeffer 1951 in Paris gegründet hatte. Für den Kompositionsprozess galten die selben Regeln, die der Franzose Francis Dhomont 1997 für seine Frankenstein Symphony aufgestellt hatte, ein ebenfalls aus vielen Komponenten zusammengesetztes Werk: Einzelteile kürzen oder übereinander schichten ('layern') ist erlaubt, weitere Transformationen der Sounds aber nicht. Das Ergebnis namens [60]Project wurde inzwischen rund um die Welt aufgeführt, zuletzt Ende April in Dänemark und Anfang Mai in Rio. Es liegt nun auch als CD vor.
Adkins hat den acht entstandenen Stücke aussagekräftige Titel gegeben und sie in drei Blöcken zusammengefasst. Auffallend von Beginn an ist die starke organische Atmosphäre, vermutlich den vielen natürlichen Geräuschen geschuldet, welche die Basis für die circa 60 Minuten bilden. Wie eine einfache Lebensform, die ihre Fühler nach allen Seiten ausstreckt, berühren die Töne den Hörer. Alles wirkt sehr viel stärker komponiert als originale Musique concrète, teilweise fast wie melodiöser Ambient. Aus den Sounds, die ihrem Ursprung nur noch selten zuzuordnen sind, wächst dabei aber stets ein Ganzes.
Zu Beginn des ersten Tracks bleibt das Werk sehr ruhig, mit ähnlich klingenden, filigranen Abschnitten. Später tönt es chorähnlich hallend und orchestral, nimmt an Lautstärke zu. Immer wieder taucht eine Art Geigerzähler auf, der sehr an einige Alben von Bad Sector erinnert. "Concrète / Instrumental" (2) ist, um im Tierreich zu bleiben, ein aufgeregter, wuseliger Ameisenhaufen, durch den gelegentlich Gongs und 'Swooshes' fahren. Viele instrumentale Klänge werden dem Namen gerecht, das Stück könnte Improvisationsmusik der 1970er-Jahre sein. Auch rhythmisch kann es zugehen wie im dritten Teil, wenn Sequenzen durch eine Art Takt gegliedert sind, den verzerrte, stimmähnliche Beeps fortlaufend zerfasern. Part 4 und 5 erklären sich selbst, Adkins arbeitet viel mit Wasserklängen (Sea Soundscape) und einer dumpferen Tiefsee-Umgebung, in der das Sonar eine Ortung versucht. Metallene, rauschende Strecken weisen den Weg in die Stadt mit Hochhäusern und Verkehrslärm (Urban Soundscape). Das letzte Drittel des Albums mit seinen drei Stücken geht in Richtung Dark Ambient. Ein weites, höhliges Bett aus geschichteten Elementen wird von noisigen Frickeleien durchbrochen, die schon andeuten, wie es weitergeht: Sehr harsch, denn "Noise Study" schießt ein Feuerwerk an zerstörerischen Sounds ab, von denen man fast Kopfweh bekommt ob des permanenten Wechselspiels zwischen Krach und absoluter Stille. Zum Abschluss, im mit 13 Minuten längsten Track, bedient sich Adkins noch einmal vieler schon bekannter Elemente. Wie ein Organist zieht er gegen Ende seines Konzerts (fast) alle Register und bekommt dennoch eine Struktur hin, die in Anlehnung an den Songtitel sehr ausgedehnt, raumfüllend ist.
Zugegeben, ohne die Entstehungsgeschichte ist dieses Album nur halb so reizvoll. Die gewaltige Faszination von [60]Project liegt eher im Prozess selbst als im hörbaren Ergebnis. Das Nachfühlen und Nachstellen von Ursprüngen elektronischer Musik macht die Sinnlichkeit aus. Natürlich ist es trotzdem eine immense Leistung, diese riesige Menge an Input in 60 Minuten zu bündeln und dabei so ansprechend zu gestalten, dass auch Konsumenten auf ihre Kosten kommen, die einfach 'nur' reine Ambient- oder gemäßigte Noisemusik mögen. 3D-Kino für die Ohren unter dem Kopfhörer ist [60]Project allemal, wenn auch nicht mit der ursprünglichen Wucht von Musique concrète.
Auffallend von Beginn an ist die starke organische Atmosphäre, vermutlich den vielen natürlichen Geräuschen geschuldet, welche die Basis für die circa 60 Minuten bilden.
Jos Smolders,
Earlabs
, April 23, 2009
Anniversary release to commemorate the 60th birthday of concrete music. Adkins collated the contributions of 60 artists into 8 segments, not following the categorization of the originator Pierre Schaeffer.
The disc contains music that was contributed by over 60 sound artists. It celebrates the 60th birthday of musique concrète in [2008]. Mathew Adkins, a veteran at Empreintes Digitales was invited to mix the sound contributions together. The result is a beautiful 74 minutes of electroacoustic music. Adkins diligently categorized all the contributions before setting to work with a mix. That way three major sections are created, each divided into two or three different sequences, each with its own sound character. To give you an impression: the first section is based on abstract electronic sounds, the second section uses concrète and 'anecdotal' material. The final balances between these two extremes.
The first section is nice but at the same time a little dull; too nice and cozy. The abstract electronics offer many chances for slowly developing scapes. And actually Adkins keeps his foot on the brakes for quite a long time. Only occasionally are we served with harsh sounds, with sudden dynamical rifts. Schaeffer, the founding father of musique concrète, had quite a different approach. His musical structure often refered heavily on classical structures, like the suite, the symphony. Of course, these are different times. Schaeffer created his music from within his own personal context.
Adkins works from a different perspective in a different age. These are more democratic times. Perhaps that's why so many different artists (Hecker, Chartier, López, Jonty Harrison, Fennesz, Roden, just to name a few) were invited to contribute. The mixes are most times blends of different layers, no juxtapositions, bumps or crashes. Well, not until track 7, that is. But that one lasts only 2'43"…
7.5 / 10
The result is a beautiful 74 minutes of electroacoustic music.
Chris Sharp,
The Wire
, no. 300, February 1, 2009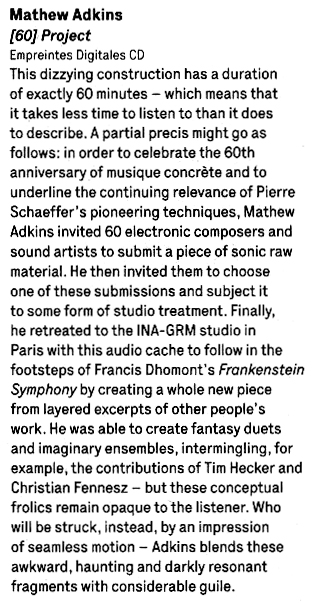 This dizzying construction has a duration of exactly 60 minutes — which means that it takes less time to listen to than it does to describe. A partial precis might g as follows: in order to celebrate the 60th anniversary of musique concrète and to underline the continuing relevance if Pierre Schaeffer's pioneering techniques, Mathew Adkins invited 60 electronics composers and sound artists to submit a piece of sonic raw material. He then invited them to choose one o these submissions and subject it ti some form of studio treatment. Finally he retreated to the Ina-GRM studio in Paris with this audio cache to follow in the footsteps of Francis Dhomont's Frankenstein Symphony by creating a whole new piece from layered excerpts of other people's work. He was able to create fantasy duets and imaginary ensembles, intermingling, for example, the contributions of Tim Hecker and Christian Fennesz — but these conceptual frolics remain opaque to the listener. Who will be struck, instead, by an impression of seamless motion — Adkins blends these awkward, haunting and darkly resonant fragments with considerable guile.
…

Adkins

blends these awkward, haunting and darkly resonant fragments with considerable guile.
Ivan Hewett looks at the origins of musique concrète, revisited in a 60th anniversary tribute to Pierre Schaeffer
Sixty years ago, on the evening of October 5, 1948, the homes of thousands of Frenchmen and women were invaded by ghostly aliens. It happened at 9pm, when these unsuspecting music-lovers switched on to Radio France, the state broadcasting company.
They were hoping for "normal" music, but instead they were assailed with weird noises; hissing steam engines, the clanking of iron wheels and the clatter of pots and pans. Mixed in with these were the sounds of a piano playing stridently modernist music, and even — horror of horrors — an amateur orchestra tuning up.
The effect wasn't quite the mass panic brought on by Orson Welles's famous War of the Worlds radio broadcast in the USA. But it wasn't far off. The letters pages of French newspapers buzzed for days with expressions of outrage, mingled with a few dissenting approvers.
This concert de bruits was a red-letter day in the annals of modern music. It was the moment when musique concrète — made from sounds recorded out in the world, rather than musical notes — came out from the laboratory and into public view. The man behind it was a quiet, intense telecommunications engineer turned composer named Pierre Schaeffer. For months he had been working in the radio station's studio, shaping the sounds he had recorded into a musical form.
The results were a series of Études de bruits (Sound Studies), which included Étude pathétique [Étude aux casseroles], based on saucepans, and another made of railway noises entitled Étude aux chemins de fer.
It sounds like "mad professor" music, but there was nothing eccentric or dotty about Schaeffer. He had a rare combination of hands-on practicality, visionary genius, and philosophical rigour. He must have had charm and persuasiveness too. In 1942, with Paris under Nazi occupation, he somehow convinced the state broadcasting company that the time was ripe to put money into an acoustical research institute, with himself as director.
By then, aged 32, he had decided that the aural world had been fundamentally changed by the advent of recording. When a violin note, a bird call and the sound of a foghorn are recorded and played back through a loudspeaker, they are hurled together into the same democratic space of the imagination, which Schaeffer dubbed "the acousmatic realm." Sounds are severed from their causes, and become "sound objects," which we listen to for their own sound qualities, just as we view abstract paintings without asking what they represent.
This view required a new way of thinking. Traditional music moves from a musical score to performance; Schaeffer's new "concrete music" moves from sounds to their organisation. But this bright new vision proved difficult to put into practice. Equipment was primitive and until the advent of the tape recorder in the late 1940s, the only way Schaeffer could capture his sounds was by cutting directly on to a steel disc with a lathe. Modifying the sounds was a trial-and-error business of speeding or slowing up the disc, or playing it backwards.
Schaeffer was determined to bring this bewildering new world of sound to order and produced his Treatise of Musical Objects in 1966.
Schaeffer's experiments were the beginning of a trend which quickly gained support. His name may not be as notorious as Stockhausen's, but within the new music world he is revered. "Sound Art" is now a genre in its own right, and the influence of Schaeffer can be heard in film scores and pop genres such as electronica.
So when the electronic composer Mathew Adkins set out to make a 60th anniversary tribute to Schaeffer for the Huddersfield Festival of Contemporary Music, he had no trouble in finding willing collaborators. "My idea was to ask composers and sound artists from all round the world to contribute sound objects," he said, "and to assemble these into a continuous piece."
The result is a 60-minute piece in eight movements [[60]Project], some of which have very Schaeffer-ish titles like Urban Soundscape and Noise Study. The sounds have a smooth sophistication that contrasts hugely with the bumpy graininess of Schaeffer's music, but Adkins still admires his pioneering experiments.
"When I heard this music as a student, it completely blew my mind. Schaeffer set me thinking about music in a completely different way, as something that creates an imaginary world. He's not dogmatic, he doesn't banish familiar sounds, he absorbs them into a new vision of what could be created in sound."
The sounds have a smooth sophistication that contrasts hugely with the bumpy graininess of Schaeffer's music, but

Adkins

still admires his pioneering experiments.
Frans de Waard, Vital, no. 672, March 23, 2009
Blog
Wednesday, December 2, 2009 /

General

The album [60]Project by Monty Adkins is nominated in the Experimentation / Research category of the sixth edition of the Qwartz Electronic Music Awards. Listen to and vote online for the finalist of your choice from December 7, 2009… More

[60]Project by Monty Adkins will be performed on April 30, 2009 at the Royal Danish Academy of Music (DKDM) in Aarhus (Denmark). On May 5, the project will then be presented at the Espaço Cultural Sérgio Porto in Rio de Janeiro (Braz… More

Thursday, January 8, 2009 /

General

Radio listeners of the BBC Radio 3 (UK) have had the opportunity to listen to Mathew Adkins's [60]Project on December 27, 2008 during a programme called Hear and Now which was highlighting the main features of the Huddersfield Contempor… More