Zentrum für Kunst und Medientechnologie Karlsruhe
SODEC
Le Canada aussi, est terre d'électroacoustique et de paysages sonores. — musicareaction, France
Gute Lautsprecher bzw. Kopfhörer sind Voraussetzung, dann entsteht die gewünschte Räumlichkeit und viele der Stücke entfalten — auch schon beim ersten Durchlauf — eine enorme Präsenz. — Nonpop, Germany
IMED 09100 / 2009
UPC/EAN 771028090099
Total duration

:

156:12
DVD-Audio — Advanced Resolution: Surround 5.1 (MLP 4824) + Stereo (4824) •• DVD-Video [NTSC, multi-region]: Surround 5.1 (Dolby Digital) + Stereo (4824) •• DVD 9
IMED 09100_NUM / 2009
UPC/EAN 771028090082
Total duration

:

156:12
Stereo
44,1 kHz, 24 bits
48 kHz, 24 bits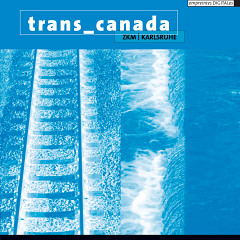 trans_canada
Various artists
DVD-Audio Surround

5.1

2.0

IMED 09100

US+3.00+4.00
Notices
Acousmatics and Soundscape
It all started with a desire to feature the outstanding creativity of Canadian electroacoustic music and and to investigate the trends of its acousmatics and soundscape composition.
Eight of the most important or promising composers were selected by co-curators Ludger Brümmer and Sabine Breitsameter and commissioned by the Institut für Musik und Akustik (Institute for Music and Acoustics) of the Zentrum für Kunst und Medientechnologie Karlsruhe (Center for Art and Media Karlsruhe, ZKM) to create new works in its studios in Karlsruhe (Germany). These new works were all premiered during the trans_canada festival at the ZKM in February 2005.
The festival was complemented by a symposium where guest speakers presented their research and points of view on Canadian electroacoustic music. These presentations and additional material produced during trans_canada can be accessed online via the ZKM's website — www.zkm.de/trans_canada/.
The ZKM is one of the largest and most active electroacoustic studios in Germany with up to 35 creative residences for composers and 70 concerts, workshops, and talks presented each year. All are centered around electroacoustic music, with a special focus on spatial music provided by the director of the Institute for Music and Acoustics Ludger Brümmer. This is how the 47-loudspeaker installation Klangdom (Sound-dome) and its open source software Zirkonium were conceived and developed to enable an easy yet effective way to perform spatial music.
This festival and symposium were successful thanks to the support from the Canadian Embassy in Berlin, the Canada Council for the Arts (CCA), and the Conseil des arts et des lettres du Québec (CALQ).
Ludger Brümmer [vi-09]
Blog
empreintes DIGITALes won't be turning 20 before January 2010. This won't stop us in starting to celebrate right now with our 100th disc! The trans_canada festival at the ZKM in 2005 was centered around 8 new works by as many Canadian…

empreintes DIGITALes won't be turning 20 before January 2010. This won't stop us in starting to celebrate right now with our 100th disc! The trans_canada festival at the ZKM in 2005 was centered around 8 new works by as many Canadian…