Canada Council for the Arts • SODEC
Prix Opus 2009-10: Disque de l'année — Finaliste
Major art, not academic-sounding or predictable at all, almost rebel in attitude. Bravo. — Monsieur Délire, Québec
This release is a picture-perfect example of the familiar yet somehow still foreign sound world that this field has to offer. — De:Bug, Germany
IMED 09101 / 2009
UPC/EAN 771028090198
Total duration

:

56:41
Stereo
AAC, 320 kbps
MP3, 320 kbps
48 kHz, 24 bits
96 kHz, 24 bits
DVD-Audio — Advanced Resolution: Surround 5.1 (MLP 9624) + Stereo (9624) •• DVD-Video [NTSC, multi-region]: Surround 5.1 (DTS, Dolby Digital) + Stereo (4824) •• DVD-ROM: MP3 (320 kbps), AAC (320 kbps) files •• DVD 9
IMED 09101_NUM / 2009
UPC/EAN 771028090181
Total duration

:

56:41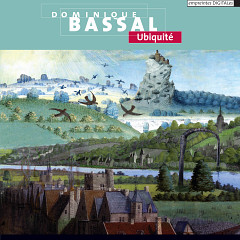 Ubiquité
DVD-Audio Surround

5.1

2.0

IMED 09101

US+3.00+4.00
In the press
Major art, not academic-sounding or predictable at all, almost rebel in attitude. Bravo.

This is sharp dude audio

;

brilliance and delicacy at work

;

at masterwork

!

This is a modern electroacoustician at its best, all in a deeply French tradition

;

shadings and nuances out of the GRM, out of the GMVL and Studio Celia.

This release is a picture-perfect example of the familiar yet somehow still foreign sound world that this field has to offer.

Salvatore Borrelli, SentireAscoltare, no. 67, May 1, 2010

Massimiliano Busti,

Blow Up

, no. 143, April 1, 2010

The talent to use sound as a narrative structure distinguishes the work of

Dominique Bassal

.

Bad Alchemy, no. 65, March 1, 2010

Eyes closed, I hear Action Painting à la Pollock, dramatic splintering of crystals, molecular turbulence, iconoclastic rumblings.

Frans de Waard,

Vital

, no. 719, February 22, 2010

The pieces are well versed in the tradition of acousmatic music.
Blog
Dominique Bassal's Ubiquité and Francis Dhomont's Études pour Kafka are both nominated for the Opus Prize in the category "Disc of the Year — Musique actuelle, Electroacoustics." The 14th Opus Prize Gala will take place on January 30…

Wednesday, November 17, 2010 /

General