Canada Council for the Arts
Prix Opus 2009-10: Disque de l'année
Le compositeur arrive donc à ses fins: l'introduction du texte par la voix, transformée, défigurée, participe à la mise en abîmes. — MaXoE, France
… a highly stimulating and engaging piece of electroacoustic theatre that will leave its audiences chilled and inspired. — Musique Machine, UK
IMED 09102 / 2009
UPC/EAN 771028090228
Total duration

:

53:48
IMED 09102_NUM / 2009
UPC/EAN 771028090280
Total duration

:

53:48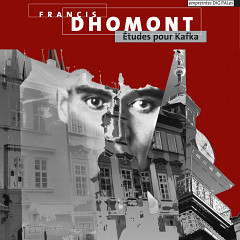 Études pour Kafka
Notices
Behind major works of the scope of … mourir un peu, Sous le regard d'un soleil noir, and Forêt profonde, is a long period of thinking – sometimes years – and several studies where I experiment with the themes, try out sound materials, and unveil glimpses of the final work. These etudes are the work's prolegomena. However, with their finished form, the studies presented here have gone beyond that stage, beyond the sketch. They are self-standing compositions prefiguring Le cri du Choucas, a long work on the world and character of Franz Kafka initiated twelve years ago.
So here are three of these self-standing 'sketches,' these pieces of sonic research and impressionistic approaches of Kafkaian themes guided by the enlightening analysis by Marthe Robert (1914-1996) (Seul, comme Franz Kafka Calmann-Lévy: Paris, 1979).
Francis Dhomont [English translation: François Couture, x-09]
Dearest Father,
You asked me recently why I maintain that I am afraid of you. As usual, I was unable to think of any answer to your question, partly for the very reason that I am afraid of you, and partly because an explanation of the grounds for this fear would mean going into far more details than I could even approximately keep in mind while talking. And if I now try to give you an answer in writing, it will still be very incomplete, because, even in writing, this fear and its consequences hamper me in relation to you and because the magnitude of the subject goes far beyond the scope of my memory and power of reasoning.
~~
[…] as a father you have been too strong for me, particularly since my brothers died when they were small and my sisters came along only much later, so that I alone had to bear the brunt of it-and for that I was much too weak.
~~
And so, if the world consisted only of me and you (a notion I was much inclined to have), then this purity of the world came to an end with you and, by virtue of your advice, thc filth began with me. In itself it was, of course, incomprehensible that you should thus condemn me; only old guilt, and profoundest contempt on your side, could explain it to me. And so again I was seized in my innermost being-and very hard indeed.
~~
What was always incomprehensible to me was your total lack of feeling for the suffering and shame you could inflict on me with your words and judgments.
~~
I could enjoy what you gave, but only in humiliation, weariness, weakness, and with a sense of guilt.
~~
[…] this feeling of being nothing that often dominates me (a feeling that is in another respect, admittedly, also a noble and fruitful one) comes largely from your influence.
~~
Hence the world was for me divided into three parts: one in which I, the slave, lived under laws that had been invented only for me and which I could, I did not know why, never completely comply with; then a second world, which was infinitely remote from mine, in which you lived, concerned with government, with the issuing of orders and with the annoyance about their not being obeyed; and finally a third world where everybody else lived happily and free from orders and from having to obey.
~~
The impossibility of getting on calmly together had one more result, actually a very natural one: I lost the capacity to talk.
~~
I lost confidence in my own actions. I was wavering, doubtful.
~~
Here, it is enough to remind you of early days. I had lost my self-confidence where you were concerned, and in its place had developed a boundless sense of guilt. (In recollection of this boundlessness I once wrote of someone, accurately: "He is afraid the shame will outlive him.")
~~
My writing was all about you; all I did there, after all, was to bemoan what I could not bemoan upon your breast. It was an intentionally long and drawn-out leave-taking from you, yet, although it was enforced by you, it did take its course in the direction determined by me.
~~
Naturally things cannot in reality fit together the way the evidence does in my letter; life is more than a Chinese puzzle. But with the correction made by this rejoinder-a correction I neither can nor will elaborate in detail-in my opinion something has been achieved which so closely approximates the truth that it might reassure us both a little and make our living and our dying easier.
—Franz
[English translation: Ernst Kaiser and Eithne Wilkins; revised by Arthur S Wensinger, Schocken Books Inc]
In the press
Seb,

MaXoE

, October 9, 2010

Le compositeur arrive donc à ses fins

:

l'introduction du texte par la voix, transformée, défigurée, participe à la mise en abîmes.

… a highly stimulating and engaging piece of electroacoustic theatre that will leave its audiences chilled and inspired.

… outstanding release. Headphones are a must.

Un exercice de rapprochement intrigant entre deux œuvres artistiques…

Rasmus Steffensen,

Geiger

, April 22, 2010

TCB,

De:Bug

, no. 141, April 1, 2010

Vincenzo Santarcangelo, Rockerilla, April 1, 2010

Julian Cowley,

The Wire

, no. 314, April 1, 2010

Klaus Hübner, Westzeit, April 1, 2010

Massimiliano Busti,

Blow Up

, no. 142, April 1, 2010

Bad Alchemy, no. 65, March 1, 2010

Frans de Waard,

Vital

, no. 719, February 22, 2010

The pieces are well versed in the tradition of acousmatic music.
More texts
Monsieur Délire
Blog
Yesterday at the 14th Opus Prize Gala in Montréal Jean-François Denis — the director of empreintes DIGITALes which was celebrating its 20th anniversary in 2010 — was presented with the "2009-10 Opus Prize: Artistic Director of the Year." Fr…

Dominique Bassal's Ubiquité and Francis Dhomont's Études pour Kafka are both nominated for the Opus Prize in the category "Disc of the Year — Musique actuelle, Electroacoustics." The 14th Opus Prize Gala will take place on January 30…

Wednesday, November 17, 2010 /

General