Canada Council for the Arts • SODEC
Prix Opus 2010-11: Disque de l'année — Finaliste
The electroacoustic music of Roxanne Turcotte is an amazing thing to hear. — Blogcritics Music, USA
[Parmi] mes 10 albums de 2011 — Voir, Québec
IMED 11106 / 2011
UPC/EAN 771028110698
Total duration

:

114:57
Stereo
AAC, 320 kbps
MP3, 320 kbps
48 kHz, 24 bits
DVD-Audio — Advanced Resolution: Surround 5.1 (MLP 4824) + Stereo (4824) •• DVD-Video [NTSC, multi-region]: Surround 5.1 (Dolby Digital) + Stereo (4824) •• DVD-ROM: MP3 (320 kbps), AAC (320 kbps) files •• DVD 9
IMED 11106_NUM / 2011
UPC/EAN 771028110681
Total duration

:

114:57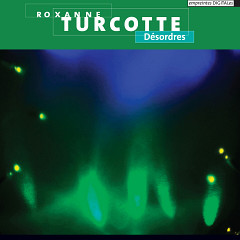 Désordres
DVD-Audio Surround

5.1

2.0

IMED 11106

US+3.00+4.00
Notices
A stroll and a visit to the museum, tunes and attuning yourself… Facing forward, taking a deep breath, and listening to wide musical spaces! All around us, we discover and look for moods, stretches, atmospheres, terrestrial motion, hidden objects. What will we find, hope, live? That is the question. Upside-downs put on straight, in reverse, in a zigzag, balanced out or toppled over… Disorganized sounds that need to be put back in order. But there is no need to get too tidy ourselves! A fluctuating course drawn on a line of time and objects of delirium and attractions of all kinds, exhibited like a collection that should be admired… The order of things!
Roxanne Turcotte [English translation: François Couture, viii-08]
In the press
Réjean Beaucage,

Voir

, December 19, 2011

[Parmi] mes 10 albums de 2011

Gilles Boisclair, SOCAN, Paroles & Musique, no. 18:4, December 1, 2011

Inutile de chercher un sens mélodique, le plaisir est plutôt de se laisser envahir par les textures et les ambiances sonores.

…

Désordres

makes an excellent initiation to sound art.

Réjean Beaucage,

Voir

, September 1, 2011

Pour ouvrir la porte de l'univers électroacoustique, c'est le genre de production idéale.
Blog
The finalists discs for Opus Prize 2010-11 (Disc of the Year — Musique actuelle, Electroacoustics) are: Automacité by Christian Bouchard De type inconnu by the duo of the same name (Sylvain Pohu, Pierre Alexandre Tremblay) Désordres by Rox…

Tuesday, November 22, 2011 /

General