Ina-GRM • BVHAAST
Canada Council for the Arts
This box set contains the following items:
Un disco indispensable a la creciente demanda de música no convencionales… — El Tiempo, Spain
… la musique […] vibre, inspire images et émotions, raconte des histoires et emmène en voyage… — Keyboards, France
Acousmatic music used for the film Eldorado (35mm, 104 minutes, 1995) by Charles Binamé; produced by Cité-Amérique.
IMED 9107/08 / 1991
UPC/EAN 771028910724
Total duration

:

154:53
Not in catalogue
This item is not available through our web site. We have catalogued it for information purposes only.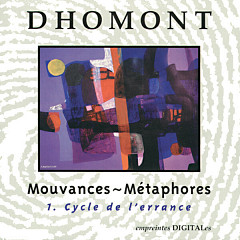 Mouvances~Métaphores