Le Fonds pour la création musicale (FCM)
Des images plein la tête… — Impact Campus, Québec
Titakti is one of the unsung classics… — AllMusic, USA
IMED 9524 / 1995
UPC/EAN 771028952427
Total duration

:

53:08
IMED 9524_NUM / 1995
UPC/EAN 771028952489
Total duration

:

53:08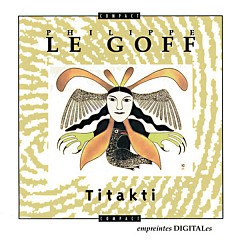 Titakti
Compact-compact 5
CAD 13.50

CAD 15.00 (-10%)

US+3.00+4.00
Notices
To Sophie
"Men go by many paths. Those which they follow and which they compare will give birth to figures which seem to belong to this great ciphered writing which one sees everywhere: on wings, on the shell of the egg, in the clouds, in the snow, in crystals and in rock formations, on the waters which turn to ice, inside and outside the mountains, plants, animals, men, in the lights of the sky […], in the filings around the magnet and in the singular junctures of chance…"

— The Disciples in Saïs, Novalis
These four Studies are the fruit of my immersion in the Inuit culture of the Canadian Arctic; the country where there are no trees. Upon entering this world where nature bears down with all its weight on life, where the boundary between art and games is tenuous and words are used sparingly, the necessity of a 'speech of sounds' imposes itself. In this world, the relationship between the sonic environment, language and music is such that electroacoustic work takes on its fullest meaning. The sounds, inextricably connected to life, begin to breath of themselves. The result is that this speech of sounds generates a work where music, Inuit conversations, laughter, the wind and the light exist side by side and intertwine. In traveling through these Studies, I sought to weave the sounds into a living material, endowed with breath and with a soul, as have humans, the animals and the elements.The term 'study' (étude) underlines the speculative nature of these works. It is a line of work that, without being properly scientific, is nonetheless supported by investigations into Inuit culture and language. The result is a personal and poetic reading of this world. It should be understood as an autobiographical account. The form of this account is based on a particular trait of the Inuit culture in which one can create a new myth by the linking together of pre-existing myths. This is also characteristic of games and chants. These Studies are therefore an attempt to create an agglutinative and integrated musical form.
The CD title Titakti is a term belonging to moderm Inuktitut. It refers to 'white music' and is used mostly on Baffin Island. The word probably is an onomatopoeia where titaktitaktitakti… would be the way to sing the music of the whale hunters. This fact was told to me by Leah Nutaraq (107 years old) from Cumberland Sound (Baffin Island).
Philippe Le Goff, Paris (France) [i-95]
All of the pieces where composed at studio Canope (Lyon, France), with the support of Sacem, La Muse en circuit (Paris) and at the Villa Médicis Hors les murs program. Final mastering was realized at the GMEM (Marseille, France). The recordings were made between 1988 and 1993, in Nunavik (Québec Arctic) in the villages of Puvirnituq, Kuujjuaraapik and Akulivik; in Nunavut (Northwestern Territories), on Coats Island and on Baffin Island in the villages of Iqualuit, Apex and Kimmirut.
[i-95]
In the press
Des images plein la tête…

François Couture, AllMusic, August 1, 2001

Titakti

is one of the unsung classics…

Esteban Lago, Hurly Burly, no. 12, January 1, 2000

George Zahora, Splendid E-Zine, October 19, 1998

… this will be the one with which you begin your own exploration.

Stephan Dunkelman, Les Cahiers de l'ACME, no. 170, February 1, 1996

François Tousignant, Le Devoir, no. 40, October 11, 1995

Que de goût dans ce disque

!

Que de réserve et de discrétion.

On aurait pu imaginer une rencontre entre

Philippe Le Goff

et les Residents d'Eskimo.