Composer(s): Jacques Tremblay, Paul Steenhuisen, Kim Hedås, Daniel Toussaint, Mark Wingate, Jocelyn Robert, Andrew Yencken, Elainie Lillios, Åke Parmerud, Yves Potvin, Natasha Barrett, Randall Smith, Stephan Dunkelman, Ned Bouhalassa, Elizabeth Hoffman, Monique Jean, Roger Doyle, Katharine Norman, Richard Karpen, Lelio Camilleri, Elsa Justel, Sylvia Eckermann, Ios Smolders, Justice Olsson, Mathias Fuchs
Author(s): Jean-François Denis
Cover image: Luc Beauchemin
… a more focused, homogeneous approach… — AllMusic, USA
I must applaud the daring nature of DIFFUSION i MéDIA. — Nightwaves, Canada
IMED 9837 / 1998
UPC/EAN 771028983728
Total duration

:

74:07
IMED 9837_NUM / 1998
UPC/EAN 771028983780
Total duration

:

74:07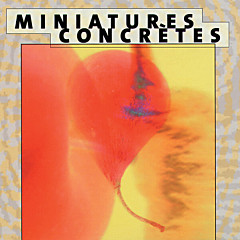 Miniatures concrètes
[24 Composers]
Électro clips 2
Various artists
Notices
Slightly more than seven years since the release of the first Électro clips disc which has in many ways "compelled electroacoustics to surpass itself" here are 24 new short works by as many new composers from around the Western world. This disc is the 37th in our empreintes DIGITALes collection and is launched in 1998 — the year of the 50th anniversary of musique concrète; our way to celebrate its development.
Jean-François Denis, Montréal [ii-98]
In the press
François Couture, AllMusic, September 23, 2001

… a more focused, homogeneous approach…

Gary Flanagan, Nightwaves, no. 8, April 1, 2001

I must applaud the daring nature of DIFFUSION i MéDIA.

HM, Adverse Effect Fanzine, no. 2:4, October 24, 2000

… a terrifically enjoyable journey through 24 tracks…

Linas Vyliaudas, Tango, no. 8, August 1, 2000

Geert De Decker, Sztuka Fabryka, July 1, 2000

… for those who seek ultimate compositions of sounds.

Felix Klopotek, Spex, March 1, 2000

Stefan Hetzel, Bad Alchemy, February 1, 2000

Jesús Gutierrez, Hurly Burly, no. 12, January 1, 2000

Alistair MacDonald, SAN Diffusion, December 1, 1999

… a hugely enjoyable CD and a fascinating snapshot of just some of the composers working in the late nineties…

Garth Cheddar, Stridernews, no. 8, April 1, 1999

All are uniformly excellent…

Troy Date,

KSVR

:

Air Force Nun

, March 1, 1999

… a fantastic introduction…

Canary Burton, Alternate Music Press, December 31, 1998

Tom Schulte, Slug, December 1, 1998

… exquisitely recorded collection of musique concrète and other avant forms of experimentation.

Dan Warburton, Art Zéro, no. 13, August 17, 1998

Kenneth P Goldsmith, New York Press, no. 15, June 10, 1998

One great thing about such music here in Canada is the empreintes DIGITALes label.

Michael D Hogan, Ici Montréal, May 21, 1998

Noah Wane, Splendid E-Zine, May 11, 1998

Ear Magazine, May 1, 1998

The Best — Highly Recommended + Third Ear Mention

:

Most Impressive

!

Dimitri DF, États limites, no. 3, May 1, 1998

… à écouter avec un casque sur un système de haute qualité

!

François Tousignant, Le Devoir, March 22, 1998

Le résultat

:

une véritable fiesta pour l'oreille, 24 petits clipsparfois amusants, parfois plus angoissants, mais qui, tous, témoignent de la diversité et de la vitalité des esthétiques.

Catherine Perrey, Décibels, February 23, 1998

… l'état de la galaxie électroacoustique.
More texts
Space City Rock no. 4