Canada Council for the Arts
Oeuf Korreckt is a master in his field. — Phosphor, Germany
… charmanten Synthpop… — Terz, Germany
Years and fashions might come and go, interest for Oeuf Korreckt's music does not seem to ever fade. Violently catchy and falsely simple, it brings a blissful smile to everyone who listens, and it even induces dancing! Podweek is a delicious plate of music which is also a little bit historic, as it was (almost) entirely composed on a software tool most people think of as outdated, the tracker. Hopefully this shall confound all the skeptics out there! Definitely music to listen to again and again (and again…).
IMNT 0205 / 2002
UPC/EAN 771028020522
Total duration

:

78:18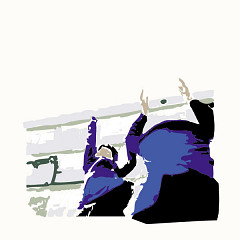 Podweek
CAD 18.75

CAD 25.00 (-25%)

US+3.00+4.00
Notices
It's a little known fact, but many computer music pioneers were in fact unsuspecting teenagers using software such as Scream Tracker (and later Impulse Tracker) to produce a kind of sequenced, robotic music devoid of fluff, but often complex and surprising. The arrival of the Windows graphical environment, which did not support the trackers' interface, eventually confined this compositional method to obsolescence, to be replaced by others which were more visual, modular and intuitive. As a result, we have a tendancy to forget a worldwide and quasi-monastic production whose golden age spreads from the end of the 1980s to the middle of the 1990s.
A latecomer to the scene, Frédérick Blouin first creates his music for himself and his friends. From this complex and rebarbative tool, he composes an astonishing quantity of little melodic gems of increasing finesse. Starting from 1995, he begins to sign them Oeuf Korreckt.
The Podweek CD presents an overview of Oeuf Korreckt's music from 1995 until today, and features a selection of works which I consider to be important, not only in the context of his own musical development, but also as part of a broader history of electronic music. Listening to Oeuf Korreckt, one goes back to Orbital, Polygon Window, Black Dog Productions (who incidentally were also into tracking), Autechre circa Tri Repetae, Björk's debut CD, classic techno compilations such as Thunderdome, Rotterdam hardcore (on that subject, pay attention to the deeply felt homage which constitute the eight minutes of King of the Elephants), and even Kraftwerk.
But this music is more than a fun stroll through memory lane. Years and fashions might come and go, interest for Oeuf Korreckt's music does not seem to ever fade. Violently catchy and falsely simple, it brings a blissful smile to everyone who listens, and it even induces dancing! So in the last analysis, the historic aspect really doesn't matter. Podweek is first and foremost a delicious plate of music.
David Turgeon [vi-02]
In the press
Emiliano Grigis, Sodapop, June 20, 2004

Vidal Romero, Era, December 1, 2003

HK, Rif Raf, December 1, 2003

DS, Phosphor, December 1, 2003

Oeuf Korreckt is a master in his field.

T™, Black, no. 33, November 1, 2003

Laurent Catala, Octopus, no. 25, November 1, 2003

SVS, Rif Raf, October 14, 2003

Rene Passet, BG, October 1, 2003

Honker,

Terz

, October 1, 2003

… charmanten Synthpop…

José Manuel Cisneros, Beat People, September 15, 2003

Una recopilación de tracks que abarcan desde la experimentación "a lo Warp" de los primeros temas…

LL, Beam Me Up, September 7, 2003

Choices, September 1, 2003

veg.b, Raveline, September 1, 2003

Von Falk, Somamag, August 26, 2003

Darren Bergstein, e/i magazine, no. 1, March 31, 2003

Oeuf to one side, the laptop techie grins, stroking all the Korreckt keys.

Vittorio Marozzi, Kathodik, January 17, 2003

Luke Martin, Splendid E-Zine, November 3, 2002

The mix of big-booted dance, creepy ambience and cheese-grinned sunrise choruses is enough to wet anyone's appetite for more. Get into it

;

it's warm…

Christopher Murphy, %Array, November 3, 2002

… an album whose content places it firmly at the crossroads of this period of intensely fertile electronic musical development.

François Couture, AllMusic, August 30, 2002

The real interest in these pieces is more in the way they sound fresh, positive, and entertaining.

Étienne Côté-Paluck, Voir, July 18, 2002

Sarah Lévesque, Nightlife, no. 36, July 1, 2002

… Oeuf Korreckt assure une IDM gentille, pointue, rigolote et inventive.

Voir, June 27, 2002

Jeremy Keens, Ampersand Etcetera, no. 2002_8, June 20, 2002

… meaty beaty big and bouncy tracks which often have a kitschy retro sound that is complex and inventive.

David Cantin, Le Devoir, June 15, 2002

… un véritable magma de textures paradoxales…

Brian Lavelle, Vital, June 13, 2002

… engage an unstoppable grin and send the proverbial shiver dancing up and down the spine…

Julien Jaffré, Jade, no. 8, June 1, 2002

… un album sans faille, séquencé, cadencé, en un mot rutilant de santé… À découvrir d'urgence.

Nicola Catalano,

Blow Up

, no. 49, June 1, 2002

… sometimes funny, sometimes silly, but in the end most of them are enjoyable…

Vils di Santo, Incursion Music Review, May 27, 2002

… well-formed and entertaining compositions… A very worthwhile release, from beginning to end.

Jean-François Perreault, Convergence, no. 2:6, May 15, 2002

Une valeur sûre pour ceux qui sont curieux des sons qu'on n'entend presque plus.
Blog
"The mood is light and quirky, with softly crunching beats backing effortless melodies and layered syncopations." (Incursion Music Review, Canada) Since the '90s, Oeuf Korreckt produces an incredible quantity of small abominably merry digit…