Canada Council for the Arts • SODEC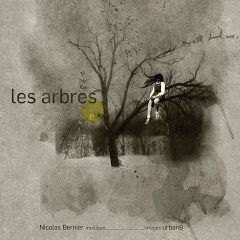 Les arbres
In the press
Tobias Fischer,

Tokafi

, March 22, 2011

It is sweet, it is bitter. It is fragile, it is rough. It is sentimental, it is cool. It feels spontaneous, it has been carefully constructed — there's no end to the list.

…

Bernier

won an Opus award for this CD

;

believe me, he deserved it.

… there is indeed something of the forest, wild and organic, but at the same time with a sense of higher order and harmony.

Un disque qui laissera très certainement des traces à tout ceux qui auront le bonheur d'y laisser traîner une oreille. Passionné et passionnant.

Aurelio Cianciotta,

Neural

, June 17, 2009

… a perfect integration of sinuous emotional trajectories…

Tobias Fischer,

Tokafi

, February 25, 2009

The images and sounds of

Les arbres

[…] encapsulates its audience in a nostalgic, discreetly melancholic and romantic emotional bubble.

I am left with little doubt that

Nicolas

is fast developing into one of the most important producers/artists around today.

… l'ensemble est sûrement trop bien pensé et orchestré pour y avoir quoi que ce soit à redire.

El canadiense

Bernier

evita con soltura el peligro de la frialdad digital gracias al constante recurso a los más amables timbres acústicos, pero no parece haber jerarquías entre sonidos.

… une véritable force vivante, sereine et poétique.

Benoît Richard,

Ondefixe

, October 1, 2008

… on découvre un univers riche et foisonnant, où chaque ambiance semble travailler jusqu'à l'extrême, histoire de faire ressortir le maximum d'impressions, d'images, de ressentis chez l'auditeur.

Laurent Catala, Octopus, October 1, 2008

Nicolas Bernier

articule textures travaillées […] et sens minimaliste contemplatif pour asseoir un paysage musical sensitif, appliqué et mélancolique…

… pillole di sound-art in dimensione tascabile tra acustica purezza e contaminazione digitale…

Jurgen Boel,

Goddeau

, September 10, 2008

L'album a du succès là où beaucoup de musiques électroniques échouent

:

il fait le pont entre les amateurs et les néophytes.

Stefano Isidoro Bianchi,

Blow Up

, no. 124, September 1, 2008

È una soundtrack carica di sentimento, che ti entra nella pelle per non uscire più.

Pavel Zelinka, His Voice, September 1, 2008

The images and sounds of

Les arbres

work both as works of art in their own right and as a multimedia experience which encapsulates its audience in a nostalgic, discreetly melancholic and romantic emotional bubble.

Stephen Fruitman,

Sonomu

, August 28, 2008

A real coffee-table book of a package. Housed in its handsome slipcover are a slim CD case and six quality postcards…

Arno Peeters, Radio 6, July 29, 2008

Michael We,

Nonpop

, July 8, 2008

Dieses hier ist allerdings äußerst gelungen und wird hoffentlich um weitere Versuchsreihen ergänzt.

Frans De Waard,

Vital

, no. 633, June 30, 2008

This is quite an amazing CD, with great ideas, perfect execution, nice packaging and a way out of the locked in microsound artists.

Sven Swift, 12rec.net, June 21, 2008

Six exquisite songs of crackling textures, harmonic drones and ambient extravaganza […] Purchase, baby

!
Blog
No Type's disc Les arbres by Nicolas Bernier was awarded the Opus prize of the "Disc of the Year — Musique actuelle, Electroacoustics" at the 13th Opus prizes gala on January 31, 2010 in Montréal. Also of interest: Chorals ornés for or…

Many electrocd.com artists are nominated for the 13th Opus prizes, awarded since 1996 by the Conseil québécois de la musique. empreintes DIGITALes' discs Chroniques d'une séduction by Jacques Tremblay and Gratte-cité by Ned Bouhalassa; as well as…