Je tiens Une Saison en enfer (d'Arthur Rimbaud) pour l'un des textes les plus riches de la poésie et même de la littérature française. Tout ce qui touche à l'humain et au divin s'y trouve dans le désordre visionnaire, mais construit, d'un maître de la langue. […] Les éléments textuels utilisés sont empruntés à «Jadis…», Mauvais sang, Nuit de l'Enfer, Délires. Suivant les séquences, le poème est distribué entre 3 voix représentant, à mes yeux, les trois faces de l'enfant-poète-homme Rimbaud (voix d'enfant, de femme, d'homme). […] Le piano et les percussions forment commentaire et contrepoint au discours fixé par le matériau électroacoustique. Ils sont la chair instrumentale et rythmique.
INA_C 2004 / 1992
UPC/EAN 3329180320041
Total duration

:

44:27
Not in catalogue
This item is not available through our web site. We have catalogued it for information purposes only. You might find more details about this item on the Ina-GRM (Groupe de recherches musicales) website.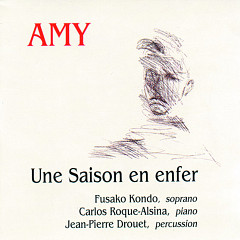 Une saison en enfer