Last 3 copies! The latest album by Marc Behrens is the end result of his attempt to understand his artistic choices in light of thier possible subconscious meanings. Regarding the process that led up to this album, Behrens writes, "I was reflecting on my own past, in which there was a period of occupying myself with plastic model airplanes out of fascination with the technology (as I understood it)... it occoured to me that electronic music has been very much linked with military technology, the latest of them being the computer. Many of our contemporary electronic tools are byproducts of military technology and, unfortuately, application. Still a bit unsure of about whether my early affection for military technology had different motivations, I saw a chance for sublimation in my musical work."
Beginning in 1996, Behrens sorted through his catalog of late 1980s and early 1990s four-track tapes and field recordings, and set to examine his older analogue sounds through his current computer-based compositional aesthetic. By keeping his previous interest in military technology in mind, he preserved a sense of remoteness and removed examination in the music. Sounds seem to come from a great distance, possibly reminiscent of pilots sitting alone in planes over enemy territory, or of lonely sailors aboard submarines far below the population they are defending. In light of recent events, Behrens' questioning of the implications of his own decision to appropriate instruments of possible military origin for his art is especially poignant.
Marc Behrens has been active as a sound and installation artist since the mid 1980s. Currently based in Frankfurt, Germany, he has exhibited or performed throughout Europe and Japan, and has worked with artists such as Francisco Lopez, bernhard gunter, Atom Heart, and Nicklaus Heyduck. His previous releases have included "Advanced Environmental Control" (trente oiseaux, GER), "Final Ballet" (Raster-Noton, GER), and "Contraction" (Digital Narcis, JAP). His piece "Revelation" appeared on Intransitive's "VARIIOUS" compilation last year. "Elapsed Time" is his first domestic US album.
"Low frequency pulses, high pitched hiss, tape manipulations and found sounds of varying timbre and intensity fall into and out of earshot; each piece is as dramatic and dynamic as the last. For me, the second piece best encapsulates the essence of these recordings. A low, distant rumbling creeps in with stunning vibrations, and switches gears quickly to a short low frequency burst, followed by a series of successive shifts and jumps, each new sound as engaging as the last, creating a distinct feeling of isolation and apprehension. An accomplished and introspective work, revealing new details and hidden sounds with repeated listening. Highly recommended." -Incurion Music Review
"Will please both the fan (who will recognize some of the material now presented in very different contexts) and the newcomer. Saying the music allies the best of both worlds, the warmth of analog field recordings and the precision of digital manipulation would get very close to a cliché. Yet, there is truth in the assertion. Moreover the military technology theme of the album empowers these lowercase sound art works with an aura of mystery. Radio signals, motors, and many other sounds one associates (rightfully or wrongfully) with the subject like mirage-keys that open no door but for a fugitive moment give the impression of a deeper, graspable meaning." -All-Music Guide.
"A complex, fully realized foray into electro-acoustics. Although this new recording is based on the reconfiguring, editing and occasional manipulation of earlier, non computer based compositions, it sits quite comfortably next to Behrens' fine past releases on labels like Raster-Noton and Trente Oiseaux. To call Behrens' work minimal is an understatement. Often the volume level of his compositions is overwhelmed by passing traffic, but 'Elapsed Time' is definitely his most aggressively direct, noisiest recording to date ... This is difficult, intelligent work that is well worth the time and effort." -Paul Lemos, Under the Volcano.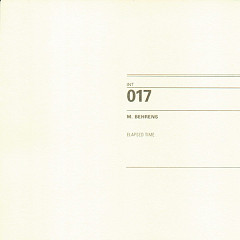 Elapsed Time