Collection: Signale aus Köln #8
LIT 71062 / 2007
ISBN 9783825871062
234 pages
Bilingual (French, German)
Not in catalogue
This item is not available through our web site. We have catalogued it for information purposes only. You might find more details about this item on the LIT Verlag website.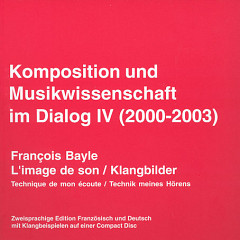 Komposition und Musikwissenschaft im Dialog IV (2000-2003)
François Bayle
:

L'image de son

;

Technique de mon écoute / Klangbilder

;

Technik meines Hörens

Christoph von Blumröder, Imke Misch, ed.