Pierre-André Arcand lives in Québec city. Artist and poet, he creates with contemporary technology and is active in the experimental music and performance scene.
He presents Eres+7, his first compact-disc. Tape loop accumulations. All pieces are composed in real time with the loop box: a customized stereo tape recorder which allows, by means of short variable loops, delays and overlaps, to construct a constantly changing continuum of sounds. The verbal, the vocal (inhaled, exhaled), the various noises, these acoustic phenomena are processed on the spot and the piece demonstrates the structuring procedure.
Short and shifting loops, delays and overlaps create a constantly renewed continuum of concrete or instrumental or vocal sounds and acoustic reverberation, which after a while spatializes the sound, invading the whole space in its exponential development. A true magnetophony.
Audio art, chant, sound text composition.
OBZ 02 / 1992
UPC/EAN 771028220229
Not in catalogue
This item is not available through our web site. We have catalogued it for information purposes only. You might find more details about this item on the OHM / Avatar website.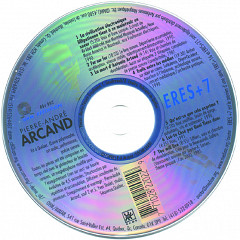 Eres + 7