Composer(s): Jorge Antunes, Alastair Bannerman, Peter Batchelor, Steve Bradley, Chin-Chin Chen, jef chippewa, Ian Chuprun, Thomas Gerwin, Yves Gigon, Barbara Golden, Martin Gotfrit, Otto Joachim, Suk-Jun Kim, sylvi macCormac, Kevin MacLeod, Diana McIntosh, Dugal McKinnon, Adrian Moore, David Prior, Jean Routhier, Antti Sakari Saario, David Solursh, Jørgen Teller, Benjamin Thigpen, Todor Todoroff, Pascale Trudel, Hans Tutschku, chris wind, Daniel Zimbaldo, Gordon Fitzell, Martín Alejandro Fumarola, Annette Vande Gorne
Cover image: Ian Chuprun
Présence II is a great sonic escape from the daily bombardment of sound stresses such as traffic, construction, and neighborhood activity. — Computer Music Journal, USA
… current electroacoustic practice. — Chroma, Australia
PEP 002 / 2000
Total duration

:

147:24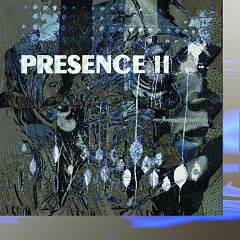 Présence II
Various artists
In the press
Patricia Lynn Dirks, Computer Music Journal, no. 25:2, June 1, 2001

Présence II

is a great sonic escape from the daily bombardment of sound stresses such as traffic, construction, and neighborhood activity.

Grant Chu Covell,

La Folia

, April 1, 2001

Ross Bencina, Chroma, no. 30, April 1, 2001

… current electroacoustic practice.

Rajmil Fischman, SAN Diffusion, February 1, 2001

… almost everyone may find something appealing in it.

François Couture, AllMusic, October 16, 2000

… a nice overview of what is produced around the world…

Irving Bellemead, Splendid E-Zine, September 25, 2000

… this really is an impressive, listenable collection of electronic music.