Composer(s): Toy.bizarre, Quiet American, Chris Degiere, Paolo Ippoliti, Cal Crawford, Philip von Zweck, Roel Meelkop, Ceyda Karamursel, Noah Sasso, Jeff Morey, V. V., Kazuya Ishigami, Jason Talbot, Eucci, Martindx, Nicholas Hennies, Kenric Mcdowel, Cornucopia, Coeurl, Michael Farley, Drizdial, Clockhammer, Bill Thompson, Gydja, Dale Lloyd, Anton Aeki, B Owen, Analogana, Tralphaz, Sawako, Svstriate
This box set contains the following items:
Within a gorgeous, delicate handmade cover, two mini-CD-Rs. The first one collects twenty one-minute field recordings, to be listened to as you would flip a photo album. The latter offers twenty reconstructions of the former, again of a minute of length each. A unique object, desirable from both a visual and a musical point of view. Limited edition. [dt]
Not in catalogue
This item is not available through our web site. We have catalogued it for information purposes only.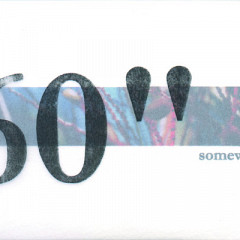 60" Somewhere / 60" Somewhere Else
Various artists
Blog
Throat, a small label run by californian Ven Voisey is now distributed by electrocd.com. Small hand-made albums, each exploring minimal aspects of our sound environment. Like the splendid 60" Somewhere / 60" Somewhere Else, two mini-CD-R gathering tw…

Thursday, November 28, 2002 /

General