Le petit bruit d'à côté du cœur du monde (Little Murmur from Next to the Heart of the World) is a poetic homage to a piece of Africa found and loved. It is an homage born of the sounds brought back from a trip in 1994, and listened a thousand times over. The secret of the resonant matter perceived in a complex movement and immersed in an imaginary and temporary construction.
VDO 0222 / 2002
Total duration

:

137:15
98-page multilingual booklet
Not in catalogue
This item is not available through our web site. We have catalogued it for information purposes only. You might find more details about this item on the Vand'Œuvre website.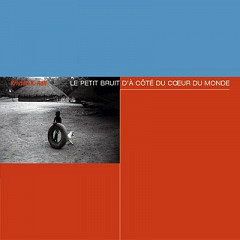 Le petit bruit d'à côté du cœur du monde
[Little Murmur from Next to the Heart of the World]
Blog
"The combination with the sax works excellent in most parts, setting off sounds and thereby creating a very generous range of expression." (Vital, The Netherlands) Composers duo Kristoff K.Roll (Jean-Christophe Camps, Carole Rieussec) prese…