Prix Opus 2010-11: Disque de l'année
… meditative and philosophical musings in sound form… — The Sound Projector, UK
… Quelques reflets scintille au carrefour des pratiques musicales. — Essmaa, France
IMED 11109 / 2011
UPC/EAN 771028110995
Total duration

:

72:51
Stereo
AAC, 320 kbps
MP3, 320 kbps
48 kHz, 24 bits
DVD-Audio — Advanced Resolution: Surround 5.1 (MLP 4824) + Stereo (4824) •• DVD-Video [NTSC, multi-region]: Surround 5.1 (Dolby Digital) + Stereo (4824) •• DVD-ROM: MP3 (320 kbps), AAC (320 kbps) files
IMED 11109_NUM / 2011
UPC/EAN 771028110971
Total duration

:

72:51
Stereo
48 kHz, 16 bits
48 kHz, 24 bits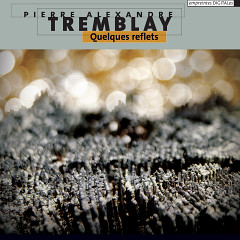 Quelques reflets
DVD-Audio Surround

5.1

2.0

IMED 11109

US+3.00+4.00
Notices
The first four works of this album were composed in the same number of consecutive residencies in the respective commissioning studios, as part of a sabbatical year project between August 2009 and July 2010. They were refined in May 2011 by the composer in the electronic music studios at the University of Huddersfield (England, UK) and then mastered in June 2011 by Dominique Bassal in Montréal (Québec).
Throughout this adventure, the following people contributed to my musical research by their comments on the drafts, and I would like to thank them deeply: Claudine Levasseur, Dominique Bassal, Nicolas Bernier, Helena Gough, Scott McLaughlin, Sam Pluta, Sylvain Pohu, Dominic Thibault, Jean-Christophe Tremblay, Monty Adkins, and Stewart Worthy.
Such a year of travel would not have been possible without the financial and logistical help of the CeReNeM (University of Huddersfield), the Canada Council for the Arts, the commissioners of each work, and my dear family. I am forever grateful.
Pierre Alexandre Tremblay, Huddersfield (England, UK) [vii-11]
Images
Pierre Alexandre Tremblay

(on the screen of an iPad held up by

Jean-François Denis

) receiving the Prix Opus 2010-11 "Album of the year — actuelle and electroacoustic musics" at the 15th Gala des Prix Opus at Salle Bourgie in Montréal. The host of the event is

Mario Paquet

(on the right side) [Photo

:

CQM, Montréal (Québec), January 29, 2012]
In the press
… meditative and philosophical musings in sound form…

Honker,

Terz

, October 1, 2012

Georges Forget,

Circuit

, no. 22:1, May 1, 2012

Bel exemple de ce que peut apporter l'intégration et la fusion de styles

multipara,

De:Bug

, no. 161, March 23, 2012

This album […] just won a 2011 Opus award, and it's well deserved.

Bad Alchemy, no. 72, January 1, 2012

Gabriel Bélanger, SOCAN, Paroles & Musique, no. 18:4, December 1, 2011

Ses œuvres amalgament les différentes formes d'expression qui s'offrent à lui pour en dégager un message et une esthétique définis et intelligibles même pour les néophytes.
Blog
The 15th Opus prizes winners were announced yesterday, January 29, 2012, in Montréal. The "Disc of the Year — Musique actuelle, Electroacoustics" is Quelques reflets by Pierre Alexandre Tremblay.…

The finalists discs for Opus Prize 2010-11 (Disc of the Year — Musique actuelle, Electroacoustics) are: Automacité by Christian Bouchard De type inconnu by the duo of the same name (Sylvain Pohu, Pierre Alexandre Tremblay) Désordres by Rox…

Tuesday, November 22, 2011 /

General