Un disque tendre, habité, féérique. — EtherREAL, France
Great electroacoustic art, and proof that this art, which at times can be abstract and methodical, can also be deeply human… and dreamy. — Monsieur Délire, Québec
These three pieces are designed to be listen to on headphones, in various postures. They are separate worlds.
Kristoff K.Roll has the sense of intrigue, of poetry, of the sublime. They use parsimony, streamlining elements of discourse to bring out the most exciting soundscapes. With its previous album published by empreintes DIGITALes, Corazón Road, the duet had propelled us on a journey into the heart of Central America. This time the journey take place in the intimate universe of dreams. We will hear people telling their dreams, sometimes confused, sometimes funny but always colorful, offering an access to unsuspected stories. Within these allegorical fables are also a few long moments of purely textural developments, slowly immersing the listener in a introspective fog, like counterpoint to the narrative. Once again, the duo of Carole Rieussec and J-Kristoff Camps brings us into totally an absorbing universe.
IMED 12118 / 2012
UPC/EAN 771028211821
Total duration

:

63:35
IMED 12118_NUM / 2012
UPC/EAN 771028211883
Total duration

:

63:35
••• Mastering: Pierre Vandewaeter, Studio Lakanal, Montpellier (France) • MP3 • OGG • FLAC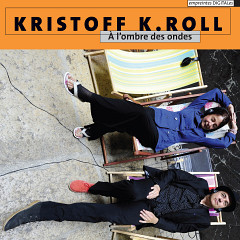 À l'ombre des ondes
Audio-Talking Naps
Notices
Location
At any hour, as long as you have good headphones!
If you have closed-air headphones, you can opt for a very noisy place.
The napper is responsible for finding balance between external and internal sounds.
A bedroom, a sidewalk, an airport hall, a balcony, a park, a living room, a forest, a harbour, a dead-end, a square — all these places are good settings for a audio-talking nap. All these spaces can switch to nighttime art in midday.
Gaze
The gaze drifts between landscape and closed eyelids.
Sounds and pictures disconnect for the duration of an intimate audio cinema session.
Lie down completely — trees, sky.
Avoid static sights — a ceiling.
Stay inclined on a deck chair — passersby, roofs, traffic.
Gazes come and go.
Relaxing your body should allow you to reach a state of fragmentary or total sleep.
You can also try group napping: put together a setup with mp3 players or lie down "harmoniously" around a headphone amp.
When several individuals are involved, a singular figure forms in the landscape.
This figure is a centre from which irradiates sleepiness.
It becomes a public invitation to reverie.
Once the setting has been chosen and your body is in place, fully listen to the surrounding hubbub, and then press Play!
Headphone Magic
Listeners are directly immersed into a soundworld, without the mediation of the acoustical space. If a fly is flying in their brain, they feel it concretely, they perceive it as being real. The recorded fly is not in some distant space: it is here, a sonic picture flying in their ears.
A firecracker goes off around them, and they find themselves in the middle of this effervescence — they are this effervescence. Confusions become possible, as true illusions. The headphones are the audio canvas of an inner big top. They frame and let filter in the surroundings.
Headphones are an illusion machine; they amplify the alternative routing of the reality listeners have settled in to listen.
Dream Narratives
Dream narratives have decided to crash this electroacoustic concert.
"I dreamed of…" Some people write down they dreams, while others let them float around all day — all their lives — and others tell them. Dreams belong to no-one, they consist of fuzzy matter, and they repeat like enigmas. Dreams are precious entities that keep on breaking down into day dust.
Archetypal characters inhabit these narratives, yet they resonate differently with each new listener.
A dream narrative is not the dream itself. The narrative seems to borrow the free recomposition of reality in action from the dream itself. Dreams are concrete music, they eschew all forms of logical causality.
Underpinning these narratives, sounds follow sounds in an obvious manner, and improvisations follow the same freeform path: the sea under a galloping horse punctuated by falling nails, whispers jumping out of a freeway, a fly flying around an engine in a Japanese patchinko, breathing under a neon light beside a crowded back alley…
This incoherence (or so it seems) triggers a freeform narrative process in listeners. A tip of the hat to Dada.
Is this narrative trying to decode the strange flower that is a dream? Is each listener inventing it as he or she hears it, text and material intertwined?
There is a similarity between concrete music and dream narratives that have achieved a certain level of freedom. Listeners seize that freedom and, possibly under the spell of "automatic" soundwriting, they create their own narrative.
Waterline
Through days and nights, sounds brush against our bodies, and then comes nap time. There, voices are dream pearls. Inside the drifting listening activity, tones meld, timbres intertwine, the flesh of words jumps out and fades out, endlessly.
Voices float, not without concern; and they drift off below the evanescence of the sonic surf, not without irony. What is being said will be said only once, but who is talking to me?
À l'ombre des ondes (In the Shadow of Waves) will lightly float inside your ears.
À l'ombre des ondes is broadcasting music created for an unusual listening context where drowsiness is summoned.
For a Dream Narrative Library
As a follow-up on these audio-talking naps, Carole Rieussec and J-Kristoff Camps invite you to record your memories of dreams and to submit your audio files or to request a personal recording session to kristoffk.roll@free.fr.
[English translation: François Couture, v-12]