Prix Opus 2014-15: Disque de l'année — Finaliste
At the outset, Fenêtres intérieures opens the window on a naturalistic world of sound and 'the passing of time seen from the inside'… — The Sound Projector, UK
… ses déclinaisons sonores expriment un foisonnement où le souffle et l'ambition sont des maîtres-mots. — Rif Raf, Belgium
IMED 14126 / 2014
UPC/EAN 771028212620
Total duration

:

60:00
3

5 melodicas and fixed medium

4

narrator and fixed medium

5

electric guitar, guitar and fixed medium

6

shakuhachi and fixed medium
IMED 14126_NUM / 2014
UPC/EAN 771028212682
Total duration

:

60:00
Stereo
48 kHz, 24 bits
96 kHz, 24 bits
3

5 melodicas and fixed medium

4

narrator and fixed medium

5

electric guitar, guitar and fixed medium

6

shakuhachi and fixed medium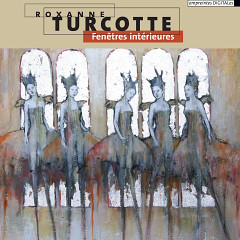 Fenêtres intérieures
In the press
At the outset,

Fenêtres intérieures

opens the window on a naturalistic world of sound and 'the passing of time seen from the inside'…

Fabrice Vanoverberg,

Rif Raf

, no. 210, May 1, 2015

… ses déclinaisons sonores expriment un foisonnement où le souffle et l'ambition sont des maîtres-mots.

Enrico Bettinello, Blow Up, no. 203, April 1, 2015

Stephan Wolf,

Amusio

, February 18, 2015

Hubert Heathertoes,

felthat

, February 2, 2015

…

Roxanne Turcotte

served a high-quality gourmet dish I haven't expected from an academician.

Here,

Turcotte

achieves perfect voice-sound and narrative-ambience relationships.
Blog
Roxanne Turcotte's Fenêtres intérieures and Gilles Gobeil's Les lointains are both nominated for the 2014-15 Opus Prize in the category "Disc of the Year — Musique actuelle, Electroacoustics". The 19th Opus Prize Gala will take place on Febr…

Tuesday, December 1, 2015 /

General

The disc Fenêtres intérieures by Roxanne Trucotte is in 3rd position on Montréal-radio CKUT "Top 30" this week.…