Xenakis' electroacoustic works are relatively few in his whole production, but they are very important. Indeed, most of them punctuate the history of electroacoustic music as masterpieces full of originality and innovation. As they are composed at important moments of Xenakis' evolution, these works can also be analyzed to understand the various aspects of his musical, theoretical, aesthetic and interdisciplinary thought: research on noise, granular theory, experimentations on spatialization, inter-artistic realizations… his book stems from an international symposium organized in May 2012 by Musidanse (University Paris 8), which hosted forty researchers (musicologists, composers ...) —among them many internationally recognized Xenakis' specialists. It contains seventeen papers from the symposium and two other papers. It testiies to the extraordinary richness and vitality of Xenakis' studies.
Texts by: Andrea Arcella / Stefano Silvestri, Agostino Di Scipio, Dimitris Exarchos, Reinhold Friedl, Anastasia Georgaki, Benoît Gibson, James Harley, Peter Hoffmann, Boris Hofmann, Ryo Ikeshiro, Mihu Iliescu, Mikhail Malt, Adriano Monteiro / Said Bonduki, Kostas Paparrigopoulos, Gérard Pape, Isabel Pires, Curtis Roads, Makis Solomos, Charles Turner.
LHARM 9782343066967 / 2015
ISBN 9782343066967
340 pages
Not in catalogue
This item is not available through our web site. We have catalogued it for information purposes only.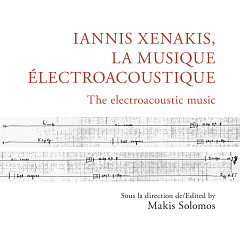 Iannis Xenakis, La musique électroacoustique / The Electroacoustic Music
Musique-philosophie
Makis Solomos, ed.