This mini-album is the first thing I composed under the name Camp. It was the year 2000. After the Period Three experience, I wanted to change my style, work with new sounds, & also to better master the Audiomulch software. I had the idea to write a couple broken-down songs, with more or less sensical lyrics (which were recorded much too low anyway).
Once this project was completed, I quickly moved on to a number of tracks which formed the Numérique & Féministe albums, the latter of which I finally released in 2001, on the No Type label (Numérique was released a couple years later, on Panospria).
From the start, I had named this mini-album I, probably thinking that the subsequent Camp albums would be named "II", "III", etc. Things didn't turn out that way even though, for me, the set of albums going from Numérique to Wear represent something like a "phase two" of the project (& the following albums up till Doubts would be a "phase three", which is still unreleased for the most part). Ironically it is only recently that the evident double meaning of the word "I" appeared to me. — David Turgeon, February 1st, 2016
This item can be downloaded and/or listened to at notype.com.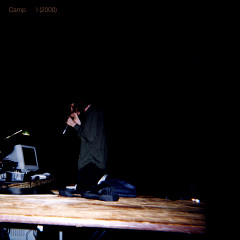 I