Andrew Lewis read music at the University of Birmingham (UK) between 1981 and '84, and subsequently studied composition there with Jonty Harrison, completing a doctorate in 1991. He was one of the original members of BEAST, and throughout the 1980s and early '90s worked with them on many electroacoustic concerts and events.
His output is predominantly acousmatic music, but he also composes for conventional forces (chamber, vocal, orchestral) with or without electronics. His music has won several prizes, awards and mentions: PRS (UK), Euphonie d'or (Bourges, France), Prix Ars Electronica (Linz, Austria), Stockholm Electronic Arts Award (Sweden), Hungarian Radio, British Arts Council Bursary, Noroit (France), ARTS XXI (Valencia, Spain), CIMESP (São Paulo, Brazil).
He is Professor of Music at Bangor University (Wales, UK), where he heads composition studies and directs the work of the Electroacoustic Music Studios. He also directs Electroacoustic Wales, which acts as a focus for the creation and dissemination of electroacoustic music throughout Wales.
[vii-13]
Andrew Lewis
Sutton in Ashfield (England, UK), 1963
Residence: Bangor (Wales, UK)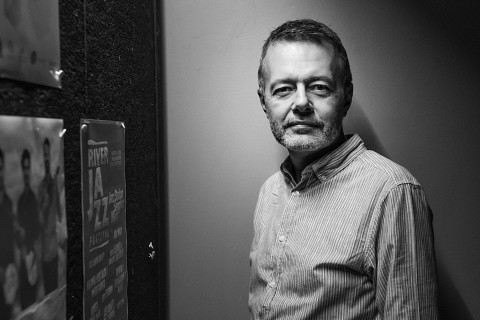 Andrew Lewis
[Photo
:
Bea Borgers, Brussels (Belgium), October 27, 2018]
In the press
Bangor New Music festival, held under the auspices of the university's School of Music, celebrated its 10th anniversary with its most ambitious programme to date, and no concert signalled the event's energy and range better than the one given by the BBC National Orchestra of Wales and featuring three firsts.
The school boasts three notable composers – Pwyll ap Siôn, Andrew Lewis and Guto Puw – and works by them made up the challenging first half.
Ap Siôn's Gwales, dating from 1995, pays homage to the late William Mathias, under whose aegis music flourished at Bangor. Building on fragments quoted from Mozart's Requiem, the work depicts a journey towards the mythical island of Gwales.
In the first of the new pieces, Andrew Lewis also took us on a journey, this time in and out of consciousness. Number Nine Dream explored the first movement of Mahler's Ninth Symphony through the hazy veil of the contemporary electroacoustic sound-world, making for an absorbing aural experience.
Hologram, by Guto Puw, BBCNOW's resident composer, exists emphatically in the present, with his ascetic approach to structure balanced by a sensuous engagement with sound. It was delivered with startling clarity by the conductor Grant Llewellyn.
Wales is the spiritual home of the composer Adrian Williams, and the contemplative, questioning vein that its landscape has permitted him to articulate was reflected in his Cello Concerto, premiered here by Raphael Wallfisch. The concerto seeks to reconcile in its single long span an introverted, blues-inflected expressiveness with a freer, unselfconsciously flowing idiom. It was indicative of Williams's instinctive ability to communicate directly that this was so warmly received by the audience.
Articles written
Andrew Lewis,

Contact

!

, no. 11:1, October 1, 1997

This is acousmatic art in its purest, highest form.
Andrew Lewis,
Contact
!
, no. 11:1, October 1, 1997
All too rarely do recordings appear which present a convincing argument for the value of acousmatic music, but this CD from Stéphane Roy does just that, and with no shortage of eloquence. This is acousmatic art in its purest, highest form. There is a fluidity and mobility in the control and shaping of material which reveals a truly sculptural approach to sound — sound as a plastic medium. One immediately notices the careful attention to detail in this music, yet it is never over-controlled. There is always a sense of real joy, of reveling in the beauty of the sounds for their own sake. This is music which is immediately attractive on first hearing (perhaps because of the strong pitch content), but also promises that closer listening will yield yet greater rewards. What comes over very strongly in all the pieces featured is that the composer is not simply manipulating material as if it were inanimate matter. Instead, the sounds really are made to live and breathe, as if they themselves possess an intelligence, and exhibit particular behaviors in direct response to their sonic environment.
All the pieces on this CD share common stylistic attributes, in particular a characteristic use of the re-enveloping of sounds, both in intensity and in pitch. The earlier works Ondes / Arborescences and Paysages intérieurs share a vitality which at times can be overwhelming, but at the same time is always clearly under control, while Mimetismo achieves with apparent effortlessness the difficult task of carrying such a strongly acousmatic language over into the live instrumental domain, and in such a way that guitar and tape really do act as one (something often claimed for other pieces, but rarely with real justification).
An important point is that these works exhibit not just artistry, but craftsmanship too, something indispensable in the acousmatic domain, since the composer not only conceives the music, but also makes it. In the final piece, Crystal Music, this craftsmanship is taken to new heights, with its exquisitely controlled explorations of quiet but intensely active shards of sound. In effect, the sense of craft becomes itself part of the artistic experience. We need more such music.
This is acousmatic art in its purest, highest form.
More texts
Contact! no. 10:1
Blog
Andrew Lewis will be presenting a solo concert on April 28, 2014 as part of the CMS-Gesprächskonzert series at the Kleiner Saal of Bruckneruni in Linz (Austria).…

BEAST present the six-concert week-end series Vanishing Point on May 24-26, 2013 at the CBSO Centre in Birmingham (England, UK). 25 works are on the programme, including those by Pierre Alexandre Tremblay, Constantinos Kontos,…

The 21 concerts and 5 installations of the 3rd New York City Electroacoustic Music Festival are taking place on April 2-6, 2013. Amongst the composers having their work presented are, from empreintes DIGITALes, Andrew Lewis, Elizabeth Hoffm…