Adam Stanović (né Stansbie) started composing electronic music over twenty years ago. Initial experiments with tape recorders and a four-track mini-disc player led him to read music and technology at both Leeds College of Music (England, UK) and University of Leeds (England, UK), where he was introduced to computer music by Dale Jonathan Perkins. During this time, he started to enjoy international performances of his musical works, and he ultimately graduated with a university prize for outstanding achievement. Adam Stanović went on to complete a PhD at City University, London (England, UK), where he devoted himself to acousmatic music under the supervision and guidance of Denis Smalley.
Nowadays, Adam Stanović's music continues to employ a fixed-medium. Rather than purely acousmatic, however, his recent works have also included instruments, electronics, film, and animation. In all such cases, his musical works explore relations between pitch and noise. Still, it is the ongoing fascination with musical form that occupies the primary focus of his compositional attention.
To date, this fascination has helped him to win prizes, residencies and mentions at competitions around the world, including: Bourges (France); Métamorphoses (Belgium); Destellos (Argentina); Contemporanea (Italy); SYNC (Russia); Música Viva (Portugal); Musica Nova (Czech Republic); and KEAR (USA).
Many of these pieces have been composed in studios around the world, including those of the IMEB (France); Musiques & Recherches (Belgium); VICC (Sweden); EMS (Sweden); Leeds College of Music (UK); CMMAS (Mexico); Holst House (UK); Mise-En_Place Bushwick (USA); Bowling Green State University (USA); Sydney Conservatorium of Music (Australia).
Adam Stanović's music has been performed in over 400 festivals and concerts around the world, including many solo concerts of his own music. Further to this, he is regularly invited to talk about electronic music, and has given lectures and presentations at many world-leading universities and conservatoires. As with his numerous journal articles and book chapters, Adam Stanović's talks often address compositional methods and aesthetic preoccupations, analytical approaches to electronic music, the nature of performance interpretation and authenticity, the nature of digitized music, and reflections on the many philosophical quandaries that electronic music seems to produce.
In 2016, Adam Stanović co-founded the British ElectroAcoustic Network (BEAN), alongside James Andean, with the intention of representing British electroacoustic music overseas. The network was subsequently affiliated with the International Confederation of Electroacoustic Music (CIME). He is currently a director of the Composer's Desktop Project (CDP), and he was Editor-in-Chief of the International Journal of Arts Humanities and Social Sciences (IJAHSS) between 2015 and '18. Adam Stanović has lectured at various institutions, and is currently Senior Lecturer at The University of Sheffield (England, UK), where he directs the MA Composition, the MA Sonic Arts, and supervises a range of PhD students.
[viii-18]
Adam Stanović
[Adam Stansbie]
Leeds (England, UK), 1981
Residence: Sheffield (England, UK)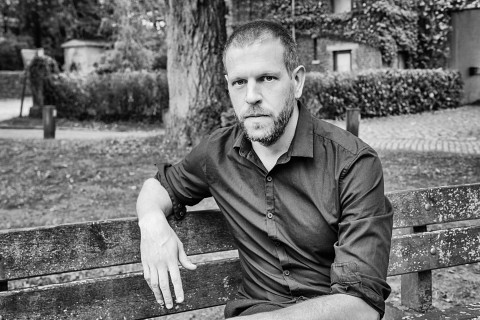 Adam Stanović
[Photo
:
Bea Borgers, Ohain (Belgium), October 24, 2018]
In the press
RNE3

:

Atmósfera

, May 5, 2019

Stanovic comenzó procesando y desarrollando estas grabaciones a la ligera de manera que mantuvieran referencias claras y sin ambigüedades a la pieza original de

Gaunt

. De esta manera, intentó ser fiel a la idea de un remix.
En 2016, Ben Gaunt pidió a Adam Stanovic que produjera una remezcla acústica de su pieza instrumental 16th Century Horror, para flauta, oboe y piano, para lo que le proporcionó las grabaciones prístinas de los tres movimientos de la obra junto con grabaciones en bruto de cada instrumento.
Stanovic comenzó procesando y desarrollando estas grabaciones a la ligera de manera que mantuvieran referencias claras y sin ambigüedades a la pieza original de Gaunt. De esta manera, intentó ser fiel a la idea de un remix. Sin embargo, mientras trabajaba, se encontró con nuevos materiales y otras direcciones que quiso explorar y comenzó así una separación entre la música de Gaunt y la suya propia lo que finalmente acabó en un corte abrupto con todas las referencias a 16th Century Horror. Así nació lo que escuchamos esta noche Ctrl c.
Stanovic comenzó procesando y desarrollando estas grabaciones a la ligera de manera que mantuvieran referencias claras y sin ambigüedades a la pieza original de

Gaunt

. De esta manera, intentó ser fiel a la idea de un remix.
• Michel Chion, Troisième symphonie, l'audio-divisuelle
À l'Usine C le 19 octobre, 18h
Le compositeur français qualifie sa troisième symphonie d'œuvre «audio-visuelle». Il s'applique à y faire s'entrechoquer sons et images de différentes manières. Cette œuvre a pour objet de «célébrer la vie sans aucune référence religieuse» et d'évoquer la mort «plus solaire que pluvieuse». De plus, Michel Chion dit avoir eu recours aux principes musicaux de la composition pour monter les images et les faire interagir avec les sons.
• Pita, Get In
À l'Usine C le 19 octobre, 20h
Pita est le pseudonyme du fondateur des Éditions Mego, Peter Rehberg. Londonien transplanté à Vienne, ce vétéran de la scène électro s'inspire du bruitisme, de l'ambient, de l'industriel, du drone, de la techno, mais aussi des premières vagues électroacoustiques. Pita a enregistré une douzaine d'albums au cours des deux dernières décennies. C'est un habitué des plus grands festivals électro: Sónar, All Tomorrow's Parties, CTM Berlin, Donaufestival. Il a reçu le prix Ars Electronica en 1999. Get In, qui sera présentée à Montréal, suit les œuvres Get Out (1999) et Get Off (2004). De la suite dans les idées… au cœur du son.
• Adam Stanović, Escapade et Mettallurgic
À l'Usine C le 20 octobre, 20h
Directeur du programme de maîtrise en art sonore de l'Université de Sheffield, Adam Stanović se spécialise dans la composition d'œuvres électroacoustiques de type acousmatique. On a pu entendre ses œuvres dans quelque 500 festivals et concerts à travers le monde. Escapade se veut un assemblage inédit de micro-fragments de musiques orchestrales. Quant à Mettallurgic, elle met en scène l'exploration sonore d'un morceau de métal via la résonance, la percussion et autres manipulations physiques de l'objet, et aussi via le traitement électronique de ces manipulations.
• Antwood, Pièces de l'album Virtuous.scr
À l'Usine C le 21 octobre, 20h
Antwood est le pseudonyme de Tristan Douglas, artiste canadien endossé par les labels Cocobass et B.YRSLF Division (sous le pseudo et jeu de mots Margaret Antwood). Il jouera à Akousma les versions alternatives de pièces tirées de son plus récent album, Virtuous.scr. L'idée de cet album se fonde sur la question suivante: l'intelligence artificielle peut-elle respecter un code d'éthique qui lui est propre si elle connaît un éveil «émotionnel»? Autour de cette thématique, la musique expérimentale investit les codes de la musique populaire se déployant dans un environnement électronique.
• Richard Chartier, Recurrence / Retracing
À l'Usine C le 22 octobre, 20 h
Actif depuis la fin des années 90, le Californien Richard Chartier s'est taillé une réputation dans les sous-tendances néo-moderne et micro-son de l'art sonore. Sa musique et ses installations ont été présentées en Europe, en Asie, en Océanie comme en Amérique du Nord. En 2000, il a fondé le label Line et assumé la direction artistique de nombreuses installations sonores. Son approche se veut autoréflexive: sa musique minimaliste explore l'espace sonore tout entier à travers les différentes caractéristiques de la relation entre émetteur et récepteur d'une œuvre: l'écoute, la perception, l'attention, le silence, etc.
• Francis Dhomont, Cycle des profondeurs I, II e III
Au Conservatoire de musique de Montréal les 20, 21 et 22 octobre, 17h45
Parmi les pionniers vivants de l'électroacoustique, Francis Dhomont a amorcé un très long cycle de création à la fin des années 40. Il a passé une large part de sa vie professionnelle entre la France et le Québec. Nombre d'œuvres importantes du répertoire lui sont attribuées, dont les trois volets de ce Cycle des profondeurs, présentés en autant de jours. Sous le regard d'un soleil noir (1979-1981) relate un naufrage intérieur, inspiré des écrits du psychiatre et psychanalyste Ronald D Laing. Forêt profonde (1994-1996) est un mélodrame acousmatique d'après un essai de Bruno Bettelheim. Le cri du Choucas (2014-2015) évoque l'approche psychanalytique de Marthe Robert.
Blog
The Foundation Destellos has announced the results of the 3rd edition of its International competition of electroacoustic composition: Adam Stanović has received the first prize for his work Escapade, the Motus Prize has been awarded to…

Wednesday, September 15, 2010 /

General