John Young was born in Christchurch (New Zealand) in 1962 to English (father) and Italian (mother) parents. He studied at the University of Canterbury, completing a doctorate on the manipulation of environmental sound sources in electroacoustic music. In 1989, with the assistance of the Queen Elizabeth II Arts Council of New Zealand (now the Creative New Zealand), he travelled to the UK to further his studies of electroacoustic music composition working privately in the studios of the University of East Anglia (Norwich, UK) with Denis Smalley.
He returned to New Zealand in 1990 to take up a position at Victoria University of Wellington where he became a Senior Lecturer and Director of the Electroacoustic Music Studios. In November 2000 he joined the Music, Technology and Innovation Research Centre at De Montfort University in Leicester (UK) where is now Professor of Composition.
His main interest in composition continues to be in acousmatic music, particularly forms based on the interplay between recognizable natural sound sources and computer-based studio transformations, but also combines electroacoustics with instrumental media.
He has a received a number of international awards, including First Prize in the 1996 Stockholm Electronic Arts Award (Sweden) (for his work Inner), a First Prize in the 34th Bourges International Electroacoustic Music and Sonic Art Competition (France, 2007) (for Ricordiamo Forlì) and Second Prize in the 4th Concurso Internacional de Música Eletroacústica de São Paulo (CIMESP '01, Brazil) (for Liquid Sky).
He has been a visiting composer at San Jose State University (CA, USA), Simon Fraser University (Vancouver), the Groupe de recherches musicales (GRM, Paris, France), the iM-PACT Center of the University of Missouri-Kansas City (UMKC) (MO, USA) and, with the assistance of the Swedish Institute, at EMS (Stockholm, Sweden). He has also given invited concerts and talks at many other places around the world, including well-known BEAST series in Birmingham (UK), at the Ai-maako festival (Santiago, Chile) and Sonoimágenes (Remedios de Escalada / Buenos Aires, Argentina).
[iv-09]
John Young
Christchurch (New Zealand), 1962
Residence: Leicester (England, UK)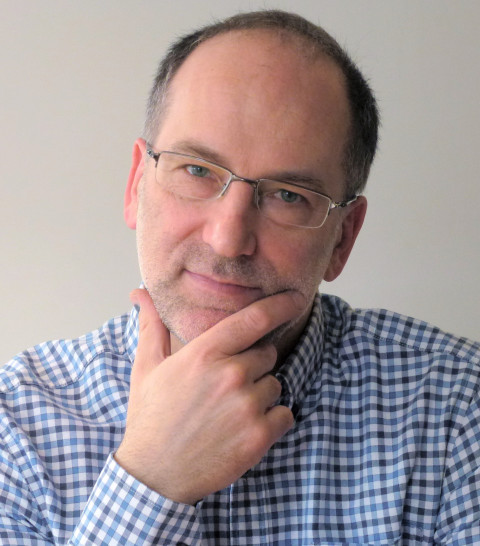 John Young
[Photo
:
Amalia Young, Leicester (England, UK), April 7, 2014]
In the press
… international acclaim for a piece of music he created about his parents' courtship in Italy…
An academic has won international acclaim for a piece of music he created about his parents' courtship in Italy during the second world war.
John Young, reader in music technology at De Montfort University in Leicester, won first prize in a competition for electroacoustic music composition organised by the French Institut international de musique électroacoustique de Bourges.
Dr Young's winning radiophonic work, Ricordiamo Forlì, was created at DMU during research leave. It tells the story of his parents' courtship towards the end of the second world war.
"My parents met in Forlì in central Italy in 1944: my mother an Italian civilian and my father an 8th Army soldier. Chaperoned by my grandmother, they met as often as they could, and on one of these occasions my mother's life was probably saved, as that day she was to have visited her sister — whose apartment was destroyed by a bomb at that exact time," he explained.
"The idea for this work grew out of my first visit to Forlì in 2002, when a lot of the emotional significance of that story resounded for me in an entirely new way. Hearing bells from churches around the city — audible across great distances — gave me a strong sense of experiencing the sounds as something resonant of the place and its history; that these sounds were voices from the past — something permanent, yet alive — evoking a sense of being touched by something that others had experienced with the same immediacy over many years and through dark, violent times," he said.
He used sounds he recorded in Forlì along with historical broadcasts and war correspondence reports to amplify the wider context of the events, while his father narrated the story. The result is a narrative supported by music developed by digitally transforming many of the sounds into an expanded "surrealised soundscape".
The work will be released later this year by Empreintes DIGITALes in Montréal.
… international acclaim for a piece of music he created about his parents' courtship in Italy…
Blog
The two 2014-15 Klinger Electroacoustic Residents (KEAR) at Bowling Green State University (Ohio, USA) have been announced. John Young will spend his two weeks in the multi-channel / ambisonic studio at the end of October 2014 and Jonty Har…

Sunday, September 28, 2014 /

General

The 20th international acousmatic festival L'Espace du son 2013 will take place on November 21 - 24, 2013 at Théâtre Marni in Brussels (Belgium). On the programme: portrait-concerts of John Young, Flô Menezes, Åke Parmerud, and Yves Daoust…

MANTIS Fall 2012 will take place on October 27 and 28, 2012 at the Martin Harris Centre of the University of Manchester (England, UK) with 4 concerts featuringJohn Young and premieres by Andrew Lewis, Brona Martin, Barry Truax, and s…