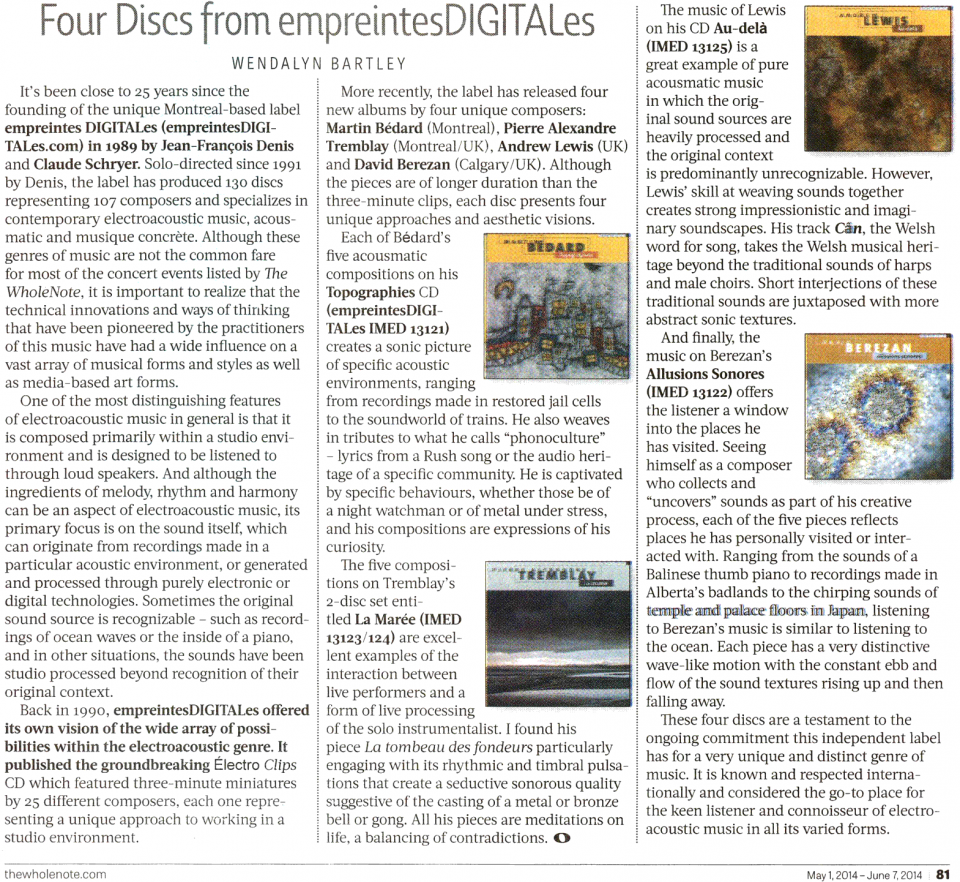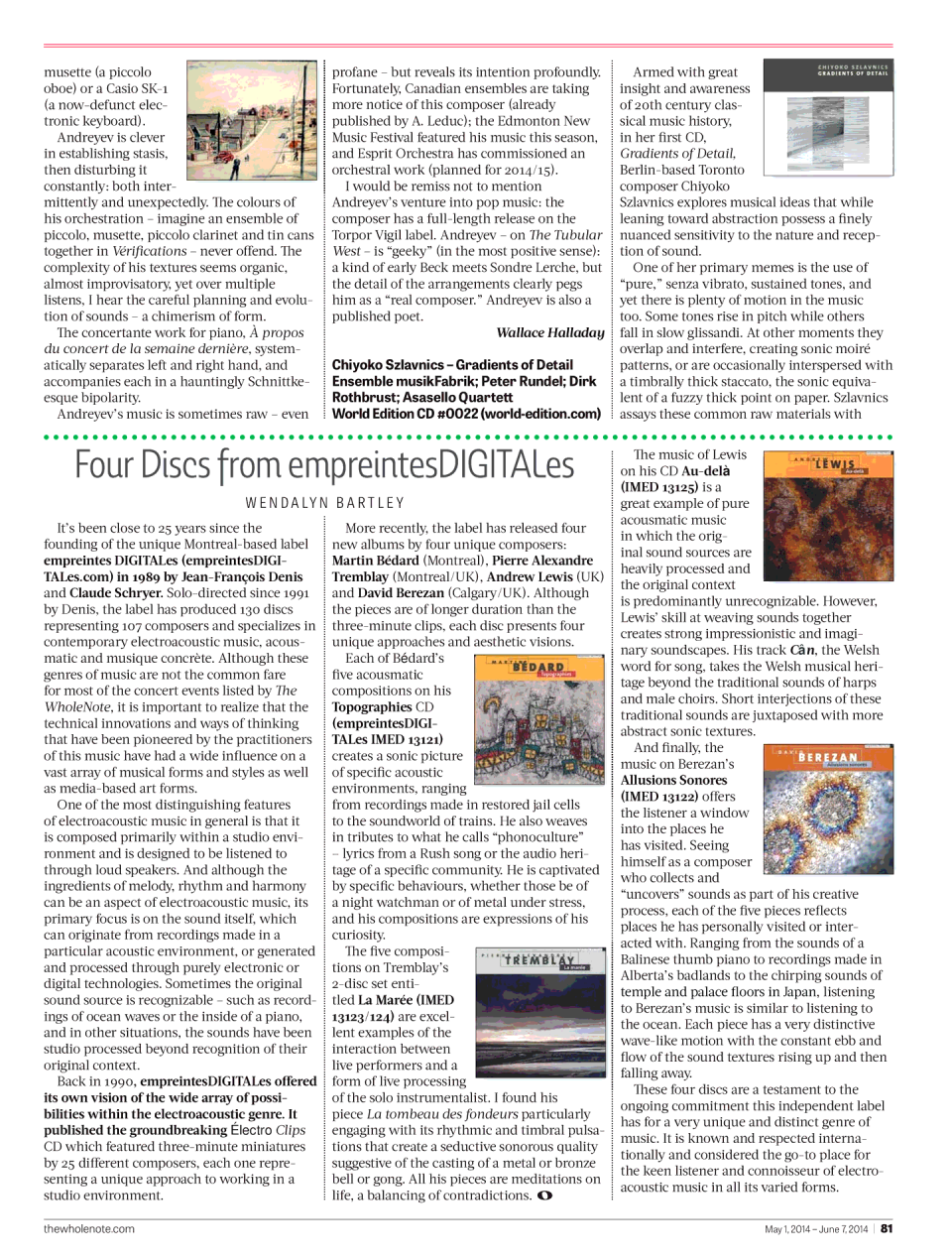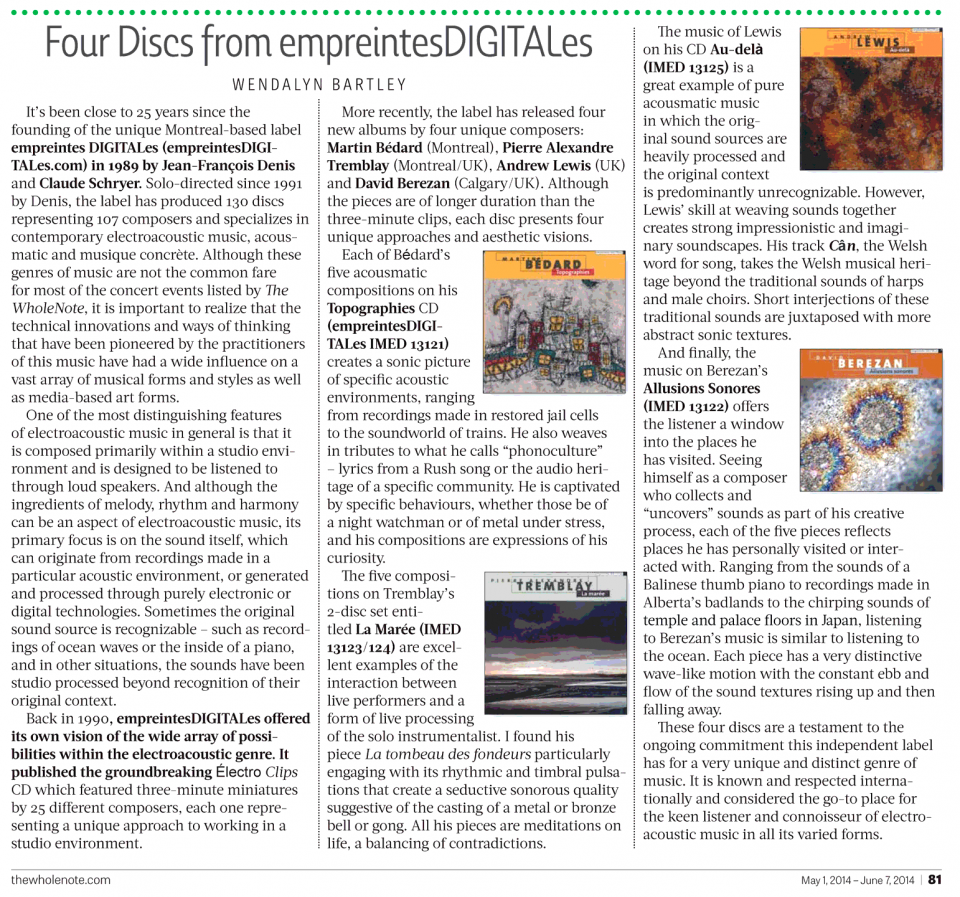 It's been close to 25 years since the founding of the unique Montréal-based label empreintes DIGITALes (empreintesDIGITALes.com) in 1989 by Jean-François Denis and Claude Schryer. Solo-directed since 1991 by Denis, the label has produced 130 discs representing 107 composers and specializes in contemporary electroacoustic music, acousmatic and musique concrète. Although these genres of music are not the common fare for most of the concert events listed by The WholeNote, it is important to realize that the technical innovations and ways of thinking that have been pioneered by the practitioners of this music have had a wide influence on a vast array of musical forms and styles as well as media-based art forms.
One of the most distinguishing features of electroacoustic music in general is that it is composed primarily within a studio environment and is designed to be listened to through loud speakers. And although the ingredients of melody, rhythm and harmony can be an aspect of electroacoustic music, its primary focus is on the sound itself, which can originate from recordings made in a particular acoustic environment, or generated and processed through purely electronic or digital technologies. Sometimes the original sound source is recognizable – such as recordings of ocean waves or the inside of a piano, and in other situations, the sounds have been studio processed beyond recognition of their original context.
Back in 1990, empreintes DIGITALes offered its own vision of the wide array of possibilities within the electroacoustic genre. It published the groundbreaking Électro clips CD which featured three-minute miniatures by 25 different composers, each one representing a unique approach to working in a studio environment.
More recently, the label has released four new albums by four unique composers: Martin Bédard (Montréal), Pierre Alexandre Tremblay (Montréal/UK), Andrew Lewis (UK) and David Berezan (Calgary/UK). Although the pieces are of longer duration than the three-minute clips, each disc presents four unique approaches and aesthetic visions.
Each of Bédard's five acousmatic compositions on his Topographies CD (IMED 13121) creates a sonic picture of specific acoustic environments, ranging from recordings made in restored jail cells to the soundworld of trains. He also weaves in tributes to what he calls "phonoculture" – lyrics from a Rush song or the audio heritage of a specific community. He is captivated by specific behaviours, whether those be of a night watchman or of metal under stress, and his compositions are expressions of his curiosity.
The five compositions on Tremblay's 2-disc set entitled La marée (IMED 13123/124) are excellent examples of the interaction between live performers and a form of live processing of the solo instrumentalist. I found his piece Le tombeau des fondeurs particularly engaging with its rhythmic and timbral pulsations that create a seductive sonorous quality suggestive of the casting of a metal or bronze bell or gong. All his pieces are meditations on life, a balancing of contradictions.
The music of Lewis on his CD Au-delà (IMED 13125) is a great example of pure acousmatic music in which the original sound sources are heavily processed and the original context is predominantly unrecognizable. However, Lewis' skill at weaving sounds together creates strong impressionistic and imaginary soundscapes. His track Cân, the Welsh word for song, takes the Welsh musical heritage beyond the traditional sounds of harps and male choirs. Short interjections of these traditional sounds are juxtaposed with more abstract sonic textures.
And finally, the music on Berezan's Allusions sonores (IMED 13122) offers the listener a window into the places he has visited. Seeing himself as a composer who collects and "uncovers" sounds as part of his creative process, each of the five pieces reflects places he has personally visited or interacted with. Ranging from the sounds of a Balinese thumb piano to recordings made in Alberta's badlands to the chirping sounds of temple and palace floors in Japan, listening to Berezan's music is similar to listening to the ocean. Each piece has a very distinctive wave-like motion with the constant ebb and flow of the sound textures rising up and then falling away.
These four discs are a testament to the ongoing commitment this independent label has for a very unique and distinct genre of music. It is known and respected internationally and considered the go-to place for the keen listener and connoisseur of electroacoustic music in all its varied forms.
… known and respected internationally and considered the go-to place for the keen listener and connoisseur of electroacoustic music…