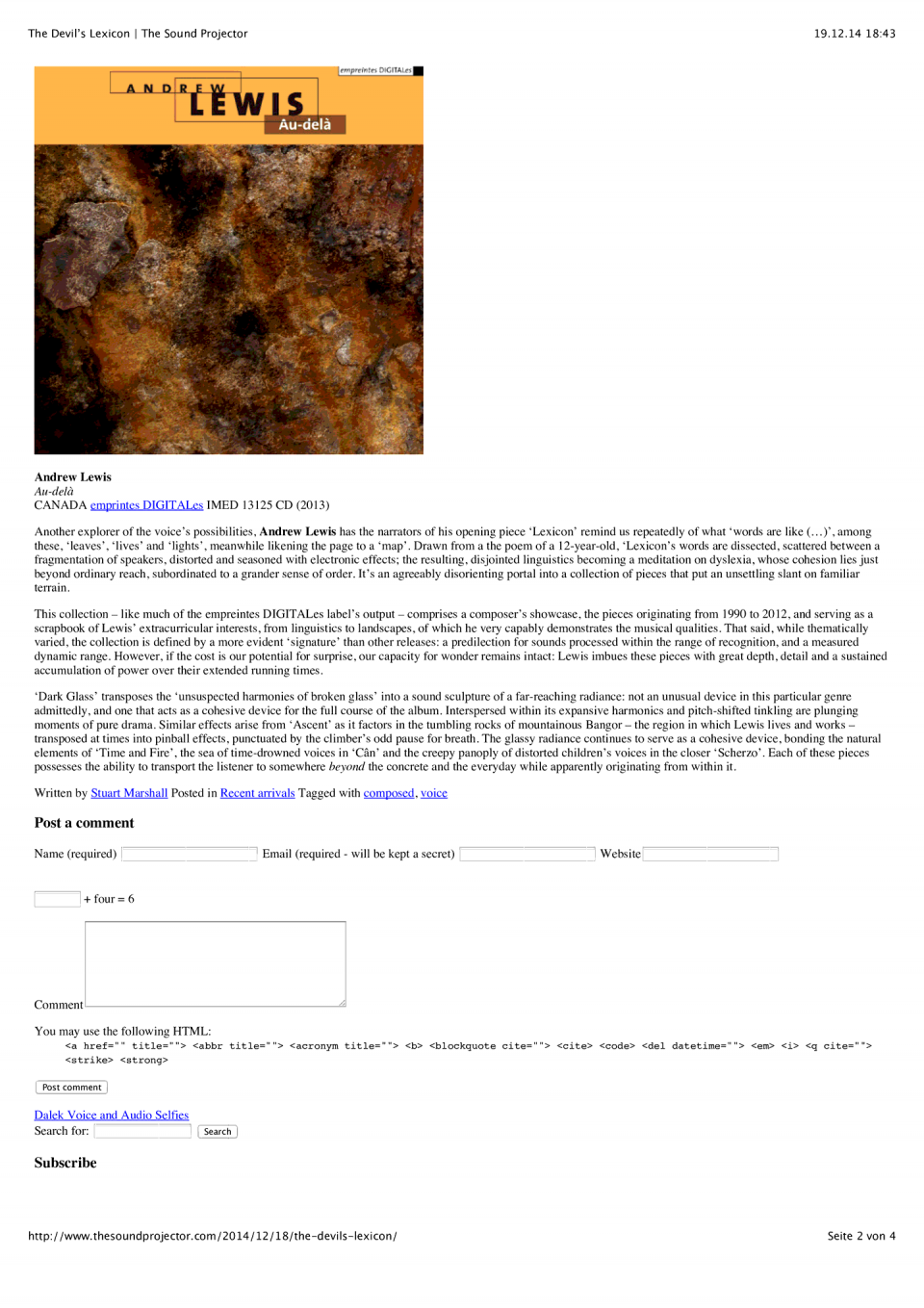 Another explorer of the voice's possibilities, Andrew Lewis has the narrators of his opening piece Lexicon remind us repeatedly of what 'words are like (…)', among these, 'leaves', 'lives' and 'lights', meanwhile likening the page to a 'map'. Drawn from a the poem of a 12-year old, Lexicon's words are dissected, scattered between a fragmentation of speakers, distorted and seasoned with electronic effects; the resulting, disjointed linguistics becoming a meditation on dyslexia, whose cohesion lies just beyond ordinary reach, subordinated to a grander sense of order. It's an agreeably disorienting portal into a collection of pieces that put an unsettling slant on familiar terrain.
This collection – like much of the empreintes DIGITALes label's output – comprises a composer's showcase, the pieces originating from 1990 to 2012, and serving as a scrapbook of Lewis' extracurricular interests, from linguistics to landscapes, of which he very capably demonstrates the musical qualities. That said, while thematically varied, the collection is defined by a more evident 'signature' than other releases: a predilection for sounds processed within the range of recognition, and a measured dynamic range. However, if the cost is our potential for surprise, our capacity for wonder remains intact: Lewis imbues these pieces with great depth, detail and a sustained accumulation of power over their extended running times.
Dark Glass transposes the 'unsuspected harmonies of broken glass' into a sound sculpture of a far-reaching radiance: not an unusual device in this particular genre admittedly, and one that acts as a cohesive device for the full course of the album. Interspersed within its expansive harmonics and pitch-shifted tinkling are plunging moments of pure drama. Similar effects arise from Ascent as it factors in the tumbling rocks of mountainous Bangor – the region in which Lewis lives and works – transposed at times into pinball effects, punctuated by the climber's odd pause for breath. The glassy radiance continues to serve as a cohesive device, bonding the natural elements of Time and Fire, the sea of time-drowned voices in Cân and the creepy panoply of distorted children's voices in the closer Scherzo.
Each of these pieces possesses the ability to transport the listener to somewhere beyond the concrete and the everyday while apparently originating from within it.
Each of these pieces possesses the ability to transport the listener to somewhere beyond the concrete…