For us, electroacoustic music is as relevant to dance as instrumental music, if not more. — Surgery Radio, Canada
… ambiance complètement surréaliste et par moments aquatique. — SOCAN, Paroles & Musique, Canada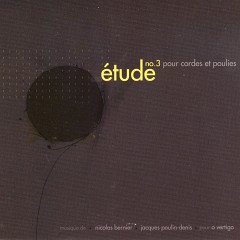 Étude no 3 pour cordes et poulies
Notes de programme
Étude no 3 pour cordes et poulies se dévoile comme une métaphore de ce qui est insaisissable de la pensée. Elle explore son désir de lever les voiles et de sa propension à prendre vol alors qu'elle est soumise à la contrainte matérielle du corps, forcée à demeurer sur le rationnel terrestre.
Écouter Étude no 3 pour cordes et poulies, c'est se placer dans la cale d'un bateau, sur le bord d'un quai, ou même à l'intérieur d'un train en regardant les paysages défiler. Le projet consiste à la création de nouveaux lieux, de méta-environnements sonores, issus d'une multitude de paysages mis en musique. Fascinés par le paysage sonore, les compositeurs n'ont pas seulement l'intention de le contempler ou de le documenter comme fait écologique. Ils tiennent à lui conférer sa pleine valeur à l'intérieur de la composition, et l'utilisent comme matériau servant à articuler le discours musical.
Pour Étude no 3 pour cordes et poulies, ils ont d'abord prit comme assise une instrumentation à corde de guitares, violons et violoncelles. Les compositeurs s'en sont ensuite détaché pour n'en garder que des artéfacts de leurs structures mélodiques, de leur structures harmoniques, ainsi que de leurs textures sonores. Cherchant à rendre une musique plus figurée, ces instruments ont été remplacés par les sons de réels cordages, de poulies et d'autres objets inusités.
La résultante est un amalgame de musique électronique et de paysages abstraits qui cherche à envoûter l'auditeur. À travers ses tableaux, il est possible de distinguer les réminiscences d'une musique ayant déjà été instrumentale, où l'atmosphere imagé dépeind l'espace infini et tumultueux de la pensée.
Cette musique a été composée par Nicolas Bernier et Jacques Poulin-Denis pour la chorégraphique Étude no 3 pour cordes et poulies de la compagnie O Vertigo.
Nicolas Bernier [iii-07]
Quelques articles recommandés
La presse en parle
For us, electroacoustic music is as relevant to dance as instrumental music, if not more.

Gilles Boisclair, SOCAN, Paroles & Musique, no 14:3, 1 septembre 2007

… ambiance complètement surréaliste et par moments aquatique.

… music that has the precision, inner life and depth of field inherent to accomplished electroacoustic work…

Réjean Beaucage, La Scena Musicale, no 5:3, 1 mai 2007

… la musique rappelle par moments la vastitude des ambiances fabriquées d'un Luc Ferrari…

Frans de Waard,

Vital

, n

o

572, 16 avril 2007

… the music is very vibrant and lively.
Blogue
Étude no 3 pour cordes et poulies, dernière parution chez Ekumen, est une commande faite à Nicolas Bernier et Jacques Poulin-Denis par la compagnie de danse O Vertigo, pour la chorégraphie Étude no 3 pour cordes et poulies de Ginette Laurin. La création de l'œu…