Conseil des arts du Canada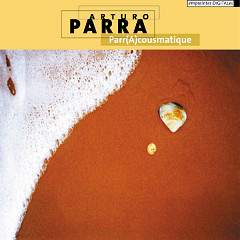 Parr(A)cousmatique
20,00 CAD

25,00 CAD (-20%)

US+3,00+4,00
Notes de programme
«Ce projet est né de l'imagination débridée du guitariste Arturo Parra. En 1997, il a commandé quatre œuvres à autant de compositeurs de musique acousmatique: Francis Dhomont, Gilles Gobeil, Robert Normandeau et Stéphane Roy. L'originalité du projet tient au fait que chacun de ces compositeurs a eu à composer une œuvre acousmatique autonome que le guitariste a ensuite utilisée comme canevas pour composer quatre œuvres mixtes pour guitare et bande.» [Robert Normandeau]
Ces quatre pièces ont été créées, dans leurs deux versions, le 15 mai 1998 lors du concert Parr(A)cousmatique produit par Réseaux dans le cadre du Festival international de musique actuelle de Victoriaville (FIMAV). Elles ont été composées grâce au soutien financier du Conseil des Arts du Canada (programme de Commandes de compositions canadiennes, partie électroacoustique) et du ministère de la Culture de Colombie (composition des parties guitare). Le présent disque regroupe la version définitive de ces quatre œuvres mixtes ainsi qu'une cinquième pièce créée dans la même optique en collaboration avec le compositeur colombien Mauricio Bejarano.
La partie instrumentale a été enregistrée en direct; elle comporte uniquement des sons obtenus sans accessoires sur une guitare non préparée, ainsi que des expressions vocales produites par l'interprète. (Luthier guitare: Manuel Contreras, père; Madrid, Espagne, 1984.)
[iv-02]
Quelques articles recommandés
La presse en parle
Sabine Moig, JazzoSphère, no 21, 1 mai 2004

… un résultat inattendu et somme toute des plus captivants.

François Couture, electrocd.com, 15 octobre 2003

Bart Plantenga, wReck thiS MeSS, 25 juillet 2003

MB, Testcard, no 13, 1 juillet 2003

PiT, Fake, no 13, 1 juillet 2003

Tobias Bolt,

Skug

, n

o

54, 14 juin 2003

Eine absolute Empfehlung.

Zipo, Aufabwegen, no 33, 1 juin 2003

Jeremy Keens, Ampersand Etcetera, no 2003_e, 1 mai 2003

A complex album and wonderful, while maintaining the genre's intensity.

Andrea Ferraris, Sodapop, 20 avril 2003

La confezione di questo CD è splendida…

JWB, Gonzo Circus, no 56, 1 avril 2003

Kamil Antosiewicz, Cisza, no 2, 13 mars 2003

Philip Clark,

The Wire

, n

o

230, 1 mars 2003

… strident vamping.

Vittore Baroni, Rumore, no 134, 1 mars 2003

KS, Progressive Newsletter, no 43, 1 mars 2003

Le résultat sonore chez lui est très emphatique, volontaire, dynamique, tandis que sa consœur réalise un travail d'une approche plus introspective.

SH, Octopus, no 21, 1 mars 2003

Croisement magnifique d'avant-garde et d'acousmatique, la dextérité d'

Arturo Parra

laisse sans voix.

Ios Smolders,

Vital

, n

o

357, 30 janvier 2003

… a very dynamic and intense cooperation…

Andrew Magilow, Splendid E-Zine, 20 janvier 2003

… prepare for a most unusual meeting of guitar virtuosity and electroacoustic improvisation

!

Rigobert Dittmann, Bad Alchemy, 17 janvier 2003

Massimo Ricci, Touching Extremes, 6 janvier 2003

I'd say that

Arturo Parra

is a visionary in the best sense of this definition.

T™, Black, no 30, 1 janvier 2003

Stéphane Possamai, Clarknova, 1 janvier 2003

Un album à découvrir longuement.

Tom Schulte, Outsight, 15 décembre 2002

… unexpected acoustic acrobatics…

François Couture, AllMusic, 1 novembre 2002

Highly recommended to enthusiasts of electroacoustic music and contemporary acoustic guitar alike.

Matthew McFarlane,

Where's the CD Review

?

, 27 octobre 2002

Holy smokes… this is exciting and fervent music… A great disc.

Réjean Beaucage,

Voir

, 3 octobre 2002

Du grand art.

Darren Copeland, The WholeNote, no 8:2, 1 octobre 2002

The intense energy of

Parra

's playing is well supported by those artists' sensitive control of tension and release.
Autres textes
Audion no 48, BBC Music Reviews
Blogue
L'œuvre Sol y sombra… L'espace des spectres, de Francis Dhomont et Arturo Parra, a été sélectionnée pour la prochaine édition du ICMC (International Computer Music Conference), qui se tiendra à Barcelone (Espagne) du 5 au 9 septembre…

En nomination dans la catégorie «Disque de l'année — musique actuelle, contemporaine, électroacoustique» les albums Parr(A)cousmatique du guitariste et compositeur Arturo Parra ainsi que Parasites du tandem Diane Labrosse / Martin Tétreault…