Conseil des arts du Canada • SODEC
… a unique and unmistakable voice in Canadian contemporary music… — Vancouver Review, Canada
… Beyond the Walls of Jericho […] is among the most monumental works of electronic music you'll ever experience. — 5:4, RU
Entièrement retouché, remixé et remasterisé, rien de moins!
IMED 0318 / 2003
UPC/EAN 771028031825
Durée totale

:

70:21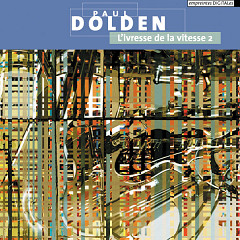 L'ivresse de la vitesse 2
[Intoxicated by Speed 2]
Quelques articles recommandés
La presse en parle
… a unique and unmistakable voice in Canadian contemporary music…

Simon Cummings,

5:4

, 21 juillet 2020

Stefano Isidoro Bianchi,

Blow Up

, n

o

89, 1 octobre 2005

Tobias C van Veen, e/i magazine, no 4, 1 juin 2005

… a prolific label for electroacoustic music as well as provocative experiments in conceptual sound.

Today's tools make his restless works shine and vibrate. His rapid pace would stun a defibrillator.

This boy certainly wants to invade all your senses and completely take them over.

Éric Normand, JazzoSphère, 1 novembre 2003

… à découvrir d'urgence.

Réjean Beaucage, La Scena Musicale, no 9:2, 1 octobre 2003

Toujours aussi impressionnant.

Colleen Johnston, The Kitchener-Waterloo Record, 23 septembre 2001

… like the pump of an electric guitar at a rock concert…

François Couture, AllMusic, 1 août 2001

Geert De Decker, Sztuka Fabryka, 19 avril 2001

Con Tempo, 1 novembre 1999

Jesús Gutierrez, Hurly Burly, no 11, 1 juillet 1999

… un dináormigueo interactivo que resuelve en novedades sónicas.

Betty Davis,

The Wire

, n

o

175, 1 septembre 1998

[one of the] 100 Records that set the world on fire

RK, Odradek, no 3, 3 janvier 1998

Elliott S, Splendid E-Zine, 17 novembre 1997

There really is no other artist working in the same fashion as

Dolden

…

Jeff Filla, N D - Magazine, no 20, 1 juin 1997

Very artfully done.

Hal London, Array Online, no 17:2, 1 juin 1997

His performance […] gives further evidence of his mastery of the sonic resources at his disposal.

Rick Bidlack, Computer Music Journal, no 20:4, 1 décembre 1996

… there is a unified aesthetic and technical approach that finds its best analogy in the huge, thick paintings of the German artist

Anselm Kiefer

.

With his emphasis on a maximalist æsthetic, he walks a compositional tightrope…

Stephan Dunkelman, Les Cahiers de l'ACME, no 170, 1 février 1996

A, Village Voice, 1 août 1995

…

Dolden

's apocalyptic hypermodernism so transcends what the 20th century had in mind that it opens up a whole new realm.

SOCAN, Words & Music, 1 juillet 1995

SOCAN, Paroles & Musique, 1 juillet 1995

Robert Crew, The Toronto Star, 16 mai 1995

A leading figure in Canada's electroacoustic community… is central to the growth and success of electroacoustic music in Canada.

BD, EST Magazine, 1 mai 1995

Phil England,

The Wire

, n

o

135, 1 mai 1995

Do not miss the work of this important "fin de siècle" artist.

Brian Duguid, Electric Shock Treatment (EST), no 6, 1 mars 1995

… few other modern composers who can be so effortlessly assured of a place in history.

François Tousignant, Le Devoir, 3 décembre 1994

Chris Yurkiw, Montreal Mirror, 1 décembre 1994

… the best of the composer's beautiful and bombastic stuff is collected in this two-CD set…

Luca Isabella, Deep Listenings, no 1, 1 septembre 1994

Daring music

:

empreintes DIGITALes

Le résultat d'une puissance unique est très original.

Dominique Olivier,

Circuit

, n

o

5:2, 1 juin 1994

… une véritable personnalité de créateur, de l'originalité, du souffle, de l'intelligence.
Autres textes
Contact! no 10:1, Audion no 33
Blogue
Dix ans après la parution de son album culte, ce n'est pas une simple ré-édition de ses œuvres que nous propose le compositeur canadien Paul Dolden mais bien un gigantesque travail de reconstruction. En effet, les centaines de pistes qui co…