… formidable; delicate and intense, transparent and edgy, elastic and firm; spiritually uplifting. — Sonoloco Record Reviews, Suède
… the results are philosophically provocative. — The WholeNote, Canada
IMED 0371 / 2003
UPC/EAN 771028037124
Durée totale

:

55:18
IMED 0371_NUM / 2003
UPC/EAN 771028037186
Durée totale

:

55:18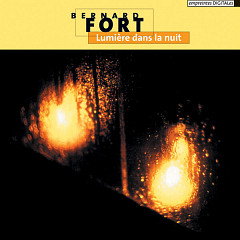 Lumière dans la nuit
[Light in the Night]
20,00 CAD

25,00 CAD (-20%)

US+3,00+4,00
Notes de programme
«Dans le silence, la solitude et l'obscurité naissent, les images mentales, énergie intérieure, comme une petite lumière fragile et radieuse dans la nuit, porteuse d'espérance.»
Dix années séparent L'impatience des limites de Silence radieux. Dix années d'ornithologie, d'enseignement, de composition en direction du jeune public, de concerts et manifestations diverses. Dix années jalonnées par trois pièces essentielles, toutes trois commandées par le Groupe de recherches musicales (Ina-GRM) et créées en public dans cet espace particulier qu'est la Salle Olivier Messiaen de la Maison de Radio France, véritable temple de la création acousmatique.
Bernard Fort [x-03]
Quelques articles recommandés
La presse en parle
Henryk Palczewski, Informator "Ars" 2, 1 mars 2005

… formidable

;

delicate and intense, transparent and edgy, elastic and firm

;

spiritually uplifting.

Alison Melville, The WholeNote, no 9:7, 1 avril 2004

… the results are philosophically provocative.
Autres textes
Splendid E-Zine
Blogue
Lumière dans la nuit, le dernier disque du compositeur Bernard Fort sera lancé lors d'un concert au Théâtre de la Villa Gillet (Lyon, France) le 2 avril 2004.…

Bernard Fort est passionné d'ornithologie et par l'étude des paysages sonores naturels. Sur Lumière dans la nuit, trois œuvres composées sur une période de dix ans sont réunies, témoignant de plusieurs années de création en collaboration avec l'…