Conseil des arts du Canada • SODEC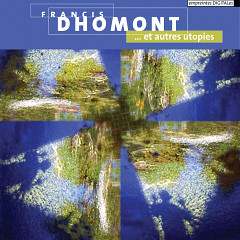 … et autres utopies
Notes de programme
Utopiques, ces mirages auditifs le sont assurément. Non dans le sens politique de la Cité idéale mais dans celui, étymologique, de ou-topos: qui n'appartiennent à aucun lieu, si ce n'est au domaine de l'imaginaire; créatures illusoires, donc, et ici acoustiques. Ces non-lieux sonores, ces chimères de la perception, issues de manipulations et formées d'éléments improbables, en perte d'identité, arrachés à toutes les sources audibles, sont des êtres fictifs, nés de l'invention nomade d'un rêveur.
Utopiques aussi — ne l'a-t-on pas souvent dit? — ces architectures de sons qui prétendent échapper aux codes des traditions musicales, ne tiennent pas compte de leurs impératifs et proposent à notre psyché un flux d'images mentales. Mais est-il besoin de rappeler tout cela, que nous savons fort bien? Sans doute, car en ces temps cybernétiques, qu'y a-t-il de plus nécessaire que la réalité de l'utopie?
Voici donc cinq fantasmes à écouter les yeux fermés; ils imaginent successivement le son dans l'espace, la révolte de l'homme contre sa propre nature, quelques phénomènes lumineux, un voyage symbolique et les éclats tumultueux de l'exaltation.
Francis Dhomont [viii-06]
Quelques articles recommandés
La presse en parle
Grant Chu Covell,

La Folia

, 1 septembre 2007

Jos Smolders, Earlabs, 26 juin 2007

Francis Dhomont

presents his intellectual preoccupations with the air of the experienced artist who is in total control of his sonic material…

Massimo Ricci, Touching Extremes, 1 juin 2007

Music with a high rate of emotional value in one of the best acousmatic releases of 2007.

Rigobert Dittmann, Bad Alchemy, no 54, 1 mai 2007

KPO, Gonzo Circus, no 80, 1 avril 2007

Michele Casella, Rockerilla, 1 avril 2007

This "collected works" present the most introspective and abstract side of

Dhomont

…

Jan Willem Broek, De Subjectivisten, 22 mars 2007

Kabbelende klanken, acceleraties vol elektronica, dreigende ambient en drones, liefdevolle stiltes en een bevreemdende atmosfeer, wisselen elkaar in afwisselend tempo af. Van natuur tot surrealisme.

… exquisita coherencia en la composición…

François Couture,

AllMusic

, 22 février 2007

… the man's unique touch and audio plasticity are as keen as ever.

Réjean Beaucage, La Scena Musicale, no 12:3, 1 novembre 2006

Le compositeur y démontre, une nouvelle fois, son étonnante maîtrise du genre.
Blogue
Les 4 disques récents finalistes pour le prix Opus (Disque de l'année — Musiques actuelle, électroacoustique) sont: Alter ego de Pierre Alexandre Tremblay … et autres utopies de Francis Dhomont Geisteswissenschaften de A_dontigny petits Bi…

mercredi 12 décembre 2007 /

Général

On célèbre la fin de cette 80e année de Francis Dhomont avec un 7e disque consacré à sa musique: … et autres utopies.…