IMED 0785 / 2007
UPC/EAN 771028078523
Durée totale

:

78:26
IMED 0785_NUM / 2007
UPC/EAN 771028078585
Durée totale

:

78:26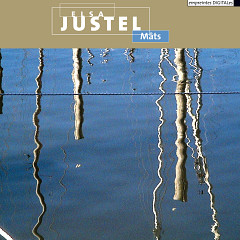 Mâts
Notes de programme
On est frappé, à l'écoute des œuvres électroacoustiques d'Elsa Justel, par la richesse de l'invention morphologique: des trames faites de sons infimes, minuscules, mais continuellement variés; des figures stratifiées, faites de multiples plans simultanés, qui se faufilent les unes dans les autres; des tremblotements qui se transforment en objets pointus et fulgurants; des objets de toutes tailles, aux allures si diverses, qui captent sans relâche notre attention. C'est sans doute une musique qui demande une écoute active, un état d'éveil aux moindres palpitations, une musique qui dévoile une richesse de sens qui ne s'épuise pas avec des écoutes répétées, bien au contraire: plus on l'écoute, plus elle devient mystérieuse et en même temps habitable. C'est une musique qu'on aime par sa finesse, sa vivacité, sa subtilité. Elle n'imite rien, elle est là, chaleureuse et en même temps savante, contrôlée et libre, vigoureuse et intelligente. Elle ajoute au monde réel une présence qui est celle de sa propre immanence. Une présence qu'Elsa Justel a cherché à faire émerger, par son travail acharné de composition, au fil des années, avec une justesse qui provoque notre adhésion spontanée. Je tiens la musique d'Elsa Justel comme étant un surplus de vie, absolument nécessaire à notre existence.
Horacio Vaggione, Paris (France), mai 2005 [x-07]
Comme le reflet des mâts distordus par le reflux de l'eau, ce recueil de musiques est un miroir de mes passions, mes joies, mes colères, mes angoisses…
Dans ce disque, je veux rendre hommage à toutes les personnes qui ont exercé une influence importante dans ma pensée musicale. À la manière d'un collage, sont évoquées des sensations, des réflexions et des actions qui participent au processus d'apprentissage et de création.
Les premiers gestes de stimulation d'Antonio Galiana, mon professeur d'harmonie du conservatoire; la joie de la découverte, entrevue à travers mes propres larmes, dans les cours de composition de Virtu Maragno; l'étonnement face à la pensée musicale paradoxale de José Maranzano, qui m'a montré que la musique n'est pas composée que par des sons; l'encouragement face à mes initiatives aventurières insufflées par Francisco Kröpfl; le goût pour l'introspection que, dans sa discrétion, m'a transmis Horacio Vaggione; l'appui et le renfort chaleureux d'Alex Martinez, à la fois professionnel et affectif; le dévouement du métier manifesté par Roger Cochini; le soutien et l'haleine procurés par Beatriz Ferreyra, dans les moments difficiles; le plaisir et l'allégresse à jouer avec les sons, prodigués par Thomas Kessler; l'élan désinvolte de Carmelo Bernaola; le sens de la synthèse dans l'écriture, révélé par Bohuslav Schaeffer; le réconfort inconditionnel de mon mari Juan Majling; … et tant d'autres noms de gens, morts ou vivants, musiciens ou profanes, des amis, des rencontres occasionnelles — la liste serait interminable — qui ont contribué au développement de ma vocation artistique.
Elsa Justel [x-07]
Quelques articles recommandés
La presse en parle
MB, Testcard, no 18, 1 février 2009

Åsa Helena Stjerna, Nutida Musik, no 2008:3, 1 décembre 2008

Massimo Ricci, Touching Extremes, 1 juin 2008

Justel

appears as still interested in forms of elemental purity, and that's a major plus.

Honker,

Terz

, 1 avril 2008

Jede Sekunde geschieht die Verwandlung. Sagenhaft.

Elsa Justel's new CD makes me feel that same way, opening an atmosphere of great possibility and long wonders to my perception

!

Marco Castagnetto,

Music Club

, n

o

182, 1 mars 2008

Tobias Fischer,

Tokafi

, 15 février 2008

… an album of serious academic electronics that is both sonically explorative and thoroughly enjoyable is a feat to be celebrated.
Autres textes
Vital no 613
Blogue
empreintes DIGITALes lance aujourd'hui un CD et deux DVD-Audio: Elsa Justel (Argentine / France): Mâts (CD-Audio) John Young (Nouvelle-Zélande / Angleterre, RU): Lieu-temps Andrew Lewis (Pays de Galles, RU): Miroirs obscurs…

empreintes DIGITALes poursuit l'offre de pré-commande (réduction de 20%) pour ses 3 prochains disques: Elsa Justel (Argentine / France): Mâts (CD-Audio) John Young (Nouvelle-Zélande / Angleterre, RU): Lieu-temps Andrew Lewis (Pays de Galles…