M&R • Communauté française de Belgique (Direction générale de la culture, Service de la musique)
Vande Gorne has an evident penchant for indefinite abstraction, a field where her studio mastery shines brightly, just check the gorgeous spectra of Figures d'espace. — Touching Extremes, Italie
Annette Vande Gorne has administered Schaeffer's assets in magnificence, developing her own brilliance out of these tantalizing traditions. — Sonoloco Record Reviews, Suède
IMED 0890 / 2008
UPC/EAN 771028089093
Durée totale

:

83:44
Stéréo
AAC, 320 kbps
Dolby Digital, 48 kHz, 24 bits
MP3, 320 kbps
48 kHz, 24 bits
DVD-Audio — Advanced Resolution: Surround 5.1 (MLP 9624 / 4824) + Stéréo (4824) •• DVD-Vidéo [NTSC, multi-région]: Surround 5.1 (Dolby Digital) + Stéréo (4824) •• DVD-ROM: fichiers MP3 (320 kbps), AAC (320 kbps)
IMED 0890_NUM / 2008
UPC/EAN 771028089086
Durée totale

:

83:44
Stéréo
48 kHz, 24 bits
96 kHz, 24 bits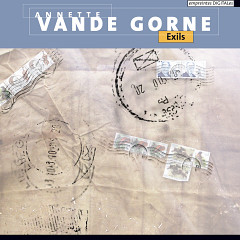 Exils
DVD-Audio Surround

5.1

2.0

IMED 0890

US+3,00+4,00
Notes de programme
Exils: temps de crise, d'errance, de transformation, de renouveau.
Un compositeur moderne du passé, Claude Debussy, est analysé 100 ans plus tard avec l'oreille et les connaissances d'une compositrice de formation classique qui s'est «exilée» dans le choix volontaire de la musique acousmatique: Ce qu'a vu le vent d'Est.
Une œuvre entièrement vocale brasse des cultures du monde entier et du passé européen, et pourtant ces voix sont méconnaissables, transformées par l'alchimie du studio électroacoustique, en exil: Vox Alia.
Un poète arabe francophone immigré, dans un très long et intense cri, celui d'un oriental blessé, déçu dans son espoir d'une civilisation occidentale (le Centre) meilleure, jette sur celle-ci un regard sensible, lucide et sans concession: Fragments de lettre à un habitant du Centre.
Un poète français, ancien ambassadeur, dont tous les biens et la famille sont otages des nazis durant la 2e guerre mondiale, dit, en exil sur une île du Maine, le dénuement intérieur de l'exilé et la vanité universelle des actions de guerre: Exil, chant II.
La folie, celle de Van Gogh, comme réponse à l'inadéquation entre les valeurs de la société marchande et celles de l'artiste intègre: Crise.
La réalité du monde connu renouvelée, trans-figurée par l'écoute de l'artiste, re-présentée et re-jouée dans l'espace figuré des haut-parleurs: Figures d'espace.
Annette Vande Gorne, Ohain (Belgique) [x-07]
Quelques articles recommandés
La presse en parle
Massimo Ricci, Touching Extremes, 1 juin 2008

Vande Gorne

has an evident penchant for indefinite abstraction, a field where her studio mastery shines brightly, just check the gorgeous spectra of

Figures d'espace

.

Rigobert Dittmann, Bad Alchemy, no 58, 1 mai 2008

Tobias Fischer,

Tokafi

, 30 mars 2008

Quite obviously, then, we are dealing with a highly personal form of expression here, which has found its place in between the arts of poetry and music.

L'écoute est sans cesse renouvelée, jamais lassante.
Autres textes
Vital no 614
Blogue
La 11e édition du festival Sound Travels, commencée le 14 juin 2009 à Toronto, se poursuit jusqu'au 31 octobre. Le 7 août Nicolas Bernier fera la création de son œuvre Courant.air et présentera une version 8 pistes de Les arbres. Auss…

empreintes DIGITALes lance aujourd'hui deux DVD-Audio en «Surround 5.1»: Annette Vande Gorne (Belgique): Exils Laurie Radford (Canada): Les ponts de l'espace…