Conseil des arts du Canada • SODEC
Prix Opus 2008-09: Disque de l'année — Finaliste
… a couple of new releases from award-winning electroacoustic composers… — The Sound Projector, RU
Mostly, though, it's a maze of dreams you journey through Ned Bouhalassa's opening work on this phonogram. I can even hear and feel the swinging on a swing; that fluctuation in gravity and that smooth air rushing back round your face… — Sonoloco Record Reviews, Suède
IMED 0895 / 2008
UPC/EAN 771028089598
Durée totale

:

76:37
Stéréo
MP3, 320 kbps
48 kHz, 24 bits
DVD-Audio — Advanced Resolution: Surround 5.1 (MLP 4824) + Stéréo (4824) •• DVD-Vidéo [NTSC, multi-région]: Surround 5.1 (Dolby Digital) + Stéréo (4824) •• DVD-ROM: fichiers MP3 (320 kbps)
IMED 0895_NUM / 2008
UPC/EAN 771028089581
Durée totale

:

76:37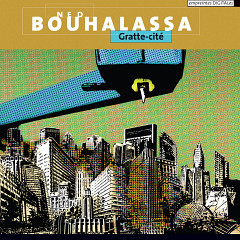 Gratte-cité
[Cityscraper]
DVD-Audio Surround

5.1

2.0

IMED 0895

US+3,00+4,00
Notes de programme
Pour préparer la matière sonore de ces pièces, j'ai sélectionné, un peu comme un DJ, ce que je préférais parmi ma vaste collection d'enregistrements, à la différence près que, dans mon cas, il s'agit d'enregistrements d'ambiances sonores urbaines. Puis, j'ai fantasmé un gigantesque disque vinyle dont les sillons seraient remplacés par l'horizon en dents de scie découpé par les gratte-ciel. Et moi, tel un géant, je dépose sur ce disque une aiguille incroyablement grosse et je «joue» la ville.
Je dédie cet album à mon épouse, Brenda Keesal, qui est également ma meilleure amie et ma plus grande admiratrice, en plus d'être excellente pour détecter ce qui marche bien.
Ned Bouhalassa [traduction française: François Couture, viii-08]
Quelques articles recommandés
La presse en parle
… a couple of new releases from award-winning electroacoustic composers…

Mostly, though, it's a maze of dreams you journey through

Ned Bouhalassa

's opening work on this phonogram. I can even hear and feel the swinging on a swing

;

that fluctuation in gravity and that smooth air rushing back round your face…

Gratte-cité

est un disque qui attise la curiosité car à la différence de beaucoup d'albums de musique électro-acoustique, celui-ci sort des sentiers battus.

Pavel Zelinka, His Voice, 1 septembre 2009

… une musique étonnante et divertissante, mais aussi profonde, imagée et intrigante pour l'oreille.

ED,

De:Bug

, n

o

133, 1 juin 2009

Bei

mOrpheus

treibt es die dunklen Klangfelder von Québec nach Berlin, bis zum Zoo und zum Alexanderplatz.

Vittore Baroni, Rumore, no 209, 1 juin 2009

Jos Smolders, Earlabs, 5 avril 2009

… gutsy and urban electroacoustic music. Definitely a leap forward

!

[…] This is a very strong collection of works.

… a couple of new releases from award-winning electroacoustic composers…

Frans De Waard,

Vital

, n

o

669, 9 mars 2009

… quite a surprising [disc], a great one for this label.
Blogue
L'émission radiophonique éclectique Délire actuel annonce aujourd'hui son «Top 30» des musiques exigeantes qui inclut: Gratte-cité de Ned Bouhalassa.…

Plusieurs artistes electrocd.com sont en nomination au 13e prix Opus, remis depuis 1996 par le Conseil québécois de la musique. Les disques empreintes DIGITALes Chroniques d'une séduction de Jacques Tremblay ainsi que Gratte-cité de Ned Bouhalassa…